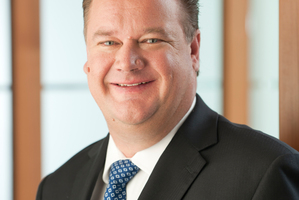 A $1 million sculpture by artist Michael Parekowhai will be installed on Auckland's Queens Wharf as part of a $2 million gift to the city by the real estate firm Barfoot & Thompson, which celebrated 90 years in business on Saturday night.
Managing director Peter Thompson said the sculpture and donations to the Holy Trinity Church and Starship Foundation were a "thank you" to Aucklanders who had bought, sold, rented and leased properties through the family-owned business.
"This is us giving back to the people of Auckland," Mr Thompson said following Saturday's formal celebration attended by 3,000 people at the ASB Showgrounds.
Auckland-based Parekowhai has been commissioned to produce an interactive sculpture for Queens Wharf, which could be located in front of the Cloud or at the end of the wharf.
Parekowhai - recognised as one of New Zealand's most important contemporary artists - is working on a concept in conjunction with Barfoot & Thompson, Auckland Council and arts patrons Dame Jenny Gibbs and John Gow.
Mr Thompson said the firm was donating $500,000 towards a $12 million completion of the Holy Trinity Cathedral in Parnell and increasing this year's Starship donation from $200,000 to $500,000.
"We are delighted to be part of the cathedral project ... and you can't talk enough of what doctors and nurses do for the future of Auckland and New Zealand," he said.
The Starship donation would be fundraised during the year by the firm's branches through events such as trivia quiz nights, barbecues and meat raffles. The money will go towards three incubators and upgrading a family garden area.
Auckland Mayor Len Brown, who attended the firm's celebrations, praised the magnitude and significance of the civic gift.
"Barfoot & Thompson's desire to mark 90 years of business success and support for Auckland by giving something back to the city and its people is awesome," he said.
In 1923, Val Barfoot purchased a run-down land agency in Newmarket for £75 ($150). He was joined by his brother a year later and in 1934 by Maurice Thompson. The firm has grown to 63 branches with more than 1300 sales staff.

City gift
• $1m - sculpture on Queens Wharf
• $500,000 - donation to Holy Trinity Church
• $500,000 - donation to Starship Foundation