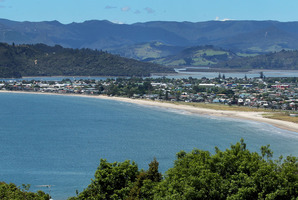 Coromandel's council has been accused of going against its own efforts to showcase heritage by proposing to dump half of the character town's listed buildings from the register.
Thames-Coromandel District Council's draft district plan proposes to slash more than 40 buildings from Coromandel township's heritage list, which has angered a local business group.
The region's mayor recently revealed to the Herald the concept of a giant heritage park encompassing the entire peninsula to preserve Coromandel's colourful history and draw more tourism.
Coromandel Mainstreet Incorporated chairman David Foreman said taking heritage status away from the buildings - including the most well known, the Four Square building - flew in the face of such plans.
"If people want to promote Coromandel as a heritage town, this seems to contradict the thrust the council is suggesting they want to take."
A council officer had advised him that 95 per cent of public submissions from the township regarding heritage were in favour of protecting and enhancing it.
Mr Foreman was worried removing the buildings from the list could create a "free for all", with the threat of out-of-town developers harming the character of the town.
A representative from tourist hotspot Arrowtown recently told a meeting of 100 residents their town could enjoy a similar boost as long as it protected its built heritage and slashed travel length.
The council's district plan manager Leigh Robcke said a heritage expert had visited and recommended the buildings be taken off the list. But she had also suggested some be added and that the heritage area be extended.
Mr Robcke said any disagreement would be addressed by the district plan's review committee when it came to make a decision.