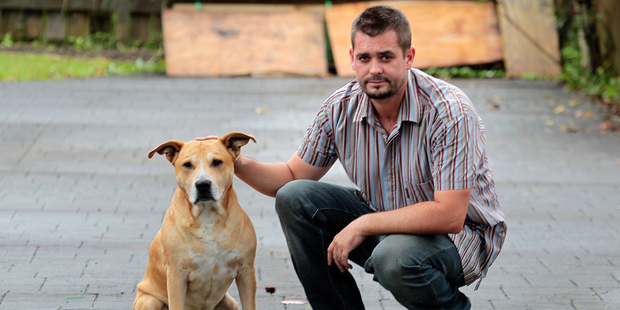 After a two-year fight to save his dog from being put down for biting a small boy, a West Auckland man claims the dog has died of natural causes.
Oracle Brampton was 3 when he was bitten by the Staffordshire terrier cross Stan outside a video store in West Auckland back in March 2011.
Stan's owner, Toby Conway, was convicted and fined $2000 in the Waitakere District Court to a charge of having a dangerous dog, and ordered to pay $3000 reparation to the family.
But the sentencing had been repeatedly delayed, for reasons such as Conway falling sick and failing to attend court. When it finally proceeded, Conway revealed his dog had died over the summer holidays.
Brampton's grandmother Moana Wepiha believed Conway had been delaying the court process to keep his dog alive as long as possible.
But Conway's lawyer Peter Boylan said his client had signed an affidavit saying Stan had died over Christmas.
"They took him on a camping holiday to the East Coast beaches," Boylan said.
"He was quite old and they thought it would be nice for him to have a bit of a run on the beach. But he got sick. They couldn't find a vet so they put him in the car instead of the tent and when they got up in the morning he was dead.
"They drove around looking for a vet so they could find out why he died but they couldn't find one. It was New Year's Day I think. So they set a fire on the beach, stacked up drift wood and put the dog in a box and put him on top of the pile. They sat there and watched it burn. They were devastated."
Wepiha said she was furious with the penalty.
"He got off real lightly. He will only pay us $3000 at $50 a week and that hasn't started yet. It will not cover everything we spent. We added it up to $50,000 over three years and gave receipts to the court. My daughter had to travel up from Hastings and pay babysitters for the time we had to go to court over three years," she said.
"The judge did nothing for the family. They didn't take anything we have been through into account.
"Our boy will have a scar on his face for the rest of his life."
In 2011, 11,708 people made $2.4m in claims to ACC after needing medical attention following a dog attack.