Hallucinating yachtie tries to jump overboard after putting on motion sickness patch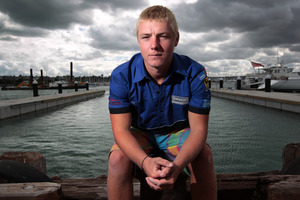 A hallucinating yacht crewman had to be tied to a chair to stop him jumping into the Pacific Ocean in what is being blamed as a severe reaction to a motion-sickness medication.
Jordan Harkin, 18, and the three men who shared the trip from Fiji to Auckland on a 19m luxury super yacht have spoken about the drama for the first time.
Harkin believes his ordeal is down to a motion sickness Scopoderm patch.
Its manufacturers say severe reactions happen in one in 10,000 cases, and have referred the incident to an expert panel.
Harkin said hallucinations started a day after applying a patch behind his ear. "I was on watch one night," he said. " I was by myself on deck and then I started seeing people walking around," said Harkin.
"I woke the skipper up and he said: 'What the hell are you on about?' It all just went downhill from there."
Skipper Bruce McMillan helped pull him back just as he was set to leap overboard.
"They caught me halfway out the deck hatch ... as I was climbing out the hatch up the front."
McMillan said the crew restrained Jordan, by tying him into a chair.
The crew tied a line to Jordan, to a secure point, "like a leash" to stop him getting away, McMillan said.
Gradually the hallucinations died down and Harkin fell asleep.
He woke 10 hours later and was fine.
Harkin said he bought the $25 pack of Scopoderm in Auckland. He had taken the drug before with no adverse effects.
"It was really good, by far the best sea sickness medication I've used, up until that trip of course."
A leaflet in the Scopoderm pack notes side effects "in isolated cases" included hallucinations, disorientation and confusion.
Novartis communications director Libby Noble said she would refer Harkin's episode to the company's "adverse event reporting team".
"From my understanding, according to any of the information in regard to the product, it's indicated to prevent symptoms of motion sickness, such as nausea ... and vertigo, and yes, it's correct that disorientation, confusion and hallucinations are listed as rare side effects."
Scopoderm's active agent is Scopolamine and University of California Professor Michael Fanselow, who has studied the effects of scopolamine on memory in animals, said it was rare for low scopolamine doses to cause hallucinations.
Harkin planned to return to sea soon, but now preferred herbal, ginger-based pills for motion sickness.