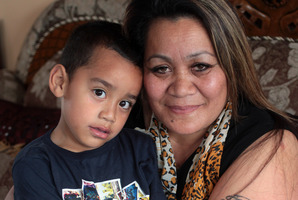 The mother of a youth shot dead in police crossfire during a chase on an Auckland motorway is about to file a $1million claim for compensation.
Halatau Naitoko's family has put its courier business into liquidation - partly because his brothers are scared to drive now - and say the suffering forced on them by the 2009 shooting has been unfair.
Naitoko died at the wheel of his courier van during a shootout between police and a man they were chasing, Stephen McDonald.
Naitoko's mother, Ivoni Fuimaono-Teputepu, said the compensation claim would be lodged in the High Court at Auckland this week. Talks had been continuing with police but she had only now been able to file an official bid for compensation because she had just been declared administrator of Halatau's affairs.
Fuimaono-Teputepu said she was trying to seek justice and honour her son's memory - she was not doing it for the money.
"No matter how much money they offer it won't bring him back. The police have made so many mistakes, so they need to learn from them. If I don't do anything, if I don't fight - there will be more people that might die."
The lodging of a claim will come almost a year after a damning report from the Independent Police Conduct Authority, which criticised police actions over Naitoko's death.
Fuimaono-Teputepu said the family courier business lost three contracts worth $20,000 a month shortly after the death and had limped along until liquidating the company recently.
"We have not only lost our son but we have lost our business. You know our boys have left school but they are scared, they don't want to go out to work. They said, 'We don't want to drive any more because we might get killed on the road'."
She used to drive a lot with her son and found the reminders difficult. "I will be driving up and down the same motorway all the time and it's hard because it is a constant reminder of what happened. He was my best friend. I miss him so much."
Her young son Halatau jnr, who was born after his namesake's death, was having difficulty understanding what had happened. "He keeps asking me, 'What happened to me, Mummy'?"
The claim will be filed against the Attorney-General, under the Bill of Rights Act.
Lawyer Colin Pidgeon QC has been working for the family through legal aid. He said they were advised to seek a settlement figure of $1million by Dr Paul Rishworth, an expert on the Bill of Rights.