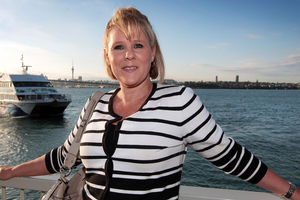 Not many use ferries, but those who do are paying most of the cost.
Taxpayers and ratepayers fork out more than $230 million a year to subsidise public transport in Auckland.
There are nearly 150,000 bus trips taken a day in our biggest city, nearly 30,000 train trips and almost 15,000 ferry rides.
The three different modes of transport were subsidised $137m (bus), $96.4m (rail) and $8.4m (ferry) last year.
Figures provided by Auckland Transport and the New Zealand Transport Agency show the fares users pay themselves towards their daily travel covers 78 per cent (ferry), 26.3 per cent (rail) and 47.7 per cent (bus) of the services' running costs.
Though ferry use is the smallest of the three, it is seen as one with high potential to grow - if fee structures are ironed out.
Campaign for Better Transport spokesman Cameron Pitches said introducing off-peak fares would help fill up empty ferries outside peak times.
And the sooner an integrated ticketing system was up and running properly the better.
"I think there's a lot of potential for growth, but at the moment the structure's not quite right."
Auckland Transport figures show ferry users took 5,447,335 trips in the year to June 2012, about 15,000 passengers a day.
Almost a dozen ferry services sail into downtown Auckland every weekday, and a new service started on February 4.
The Beach Haven to downtown via Hobsonville Pt service began after two wharves were built for $5m.
The company behind a 300-home development in Hobsonville put $900,000 towards the cost. The rest was met by the public.
Auckland Transport is confident ferry passenger numbers will increase, starting with the Beach Haven and Hobsonville service.
About 475 people are expected to use the morning peak hour ferries by 2016.
It expects a 1.1 per cent increase in ferry passengers this year - with rises of 4.2 per cent and 3.3 per cent in each of the following years.
The Auckland Transport board says ferry use is up for the past three years. More than 5.36 million journeys were made in the year to November, up 5.4 per cent or 276,462 passengers. The previous year's rise topped half a million.
However, the only figures for individual ferry services were based on a single survey of morning peak arrivals in Auckland on a March weekday last year, spokesman Mark Hannan said.
It found Bayswater had almost 5 per cent fewer on board than the year before.
Numbers were down 10 per cent on the Birkenhead/Northcote Pt ferry.

Boat or bus a matter of convenience
A tale of two city commuters is a tale of convenience.
ASB Bank IT auditor Steve Hinton takes a bus to his job in central Auckland. He catches whichever bus arrives first at a busy stop on Birkenhead Ave, a five-minute walk from his home. Ten trips to or from the city cost $30.
When Hinton, 50, lived closer to the ferry terminal, he took the ferry to work.
A year ago, he moved closer to central Birkenhead and the convenience of a frequent bus timetable was too good to ignore.
Tower Insurance retention manager Nicolette Steele sees things differently. She and husband Ben drive 10 minutes from Birkdale to catch the 8.05am ferry. "We tried the bus but it takes too long."
The ferry is probably more expensive: as well as any cost for driving to and from the terminal, a 10-trip ticket for an adult costs $39, compared to $40.50 for 10 three-stage bus trips.