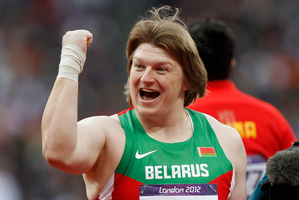 Belarusian shot putter Nadzeya Ostapchuk who was stripped of her Olympic Champion title has been caught doping again.
The finding relates to Ostapchuk's 2005 world shot put title in Helsinki, Finland.
The International Association of Athletics Federations (IAAF) re-tested a selection of samples collected from athletes in a range of sports and countries competing, which revealed six failed results.
Fellow Belarusian athletes Andrei Mikhnevich, Ivan Tsikhan and Vadim Devyatovskiy, along with Russians Tatyana Kotova, and Olga Kuzenkova were also found guilty of doping in the re-test.

Ostapchuk briefly was stripped of her Olympic gold medal last year for failing a drug test. The medal was awarded to New Zealand's Valerie Adams.
"It is fantastic that the IAAF are working hard to uncover drug cheats and are focused on maintaining the integrity of the sport," said Adams said in a statement today.
"I find it very motivating that the world governing body is committed to making the sport of Athletics as clean as possible."
The IAAF said the re-testing was part of its "strategic anti-doping policy", using up-to-date analytical techniques to re-analyse samples taken in 2005.
"The IAAF's message to cheaters is increasingly clear that, with constant advancements being made in doping detection, there is no place to hide.
"This re-testing is just the latest example of the IAAF's firm resolve to expose cheating in our sport," IAAF president Lamine Diack said in a statement.
"The IAAF will continue to do everything in its power to ensure the credibility of competition, and where the rules have been broken, will systematically uncover the cheats."
Disciplinary procedures are underway for the disgraced athletes, and the IAAF would not make any further comment until they were completed, said the statement.
- nzherald.co.nz and APNZ