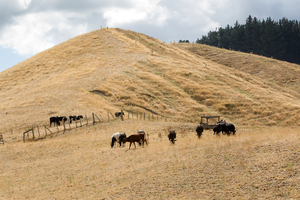 The drought is rapidly working its way down the country, and with Niwa predicting no change to the weather until at least mid-March, farmers from as far afield as Southland are suffering.
Northland, Auckland, Waikato, Bay of Plenty and Hawkes Bay have all been officially declared drought zones, while farmers from Manawatu-Rangitikei hope to follow suit next week so they can have access to the Government benefits the provided by te declaration.
Federated Farmers have sent their members advice on how to cope in these trying times, even suggesting they feed stock poplar and willow trees planted to prevent erosion.
"Hardwoods like elm, oak, maple, ash, sycamore, plane tree [and] birch are generally considered to be palatable as well.''
Even the normally rainy South Island West Coast is dry, and in Southland, the Dunrobin River has dropped to a level normally expected every 16 years.
Environment Southland said water levels were so low that large-scale users like farmers had been forced to stop taking water for irrigation.
Hydrologists, scientists, emergency managers, as well as Southland Fish and Game staff, had been meeting weekly to asses the wider impact on the region.
In Waikato farmers are holding meetings next week to discuss how to deal with the situation and what their options are.
"It is important that people know how to cope with the conditions and then also manage their way out of the drought again,'' said Waikato Federated Farmers' president James Houghton.
Farmers needed to remember that it could take four weeks or more after it rains before there is enough pasture regrowth to graze again.