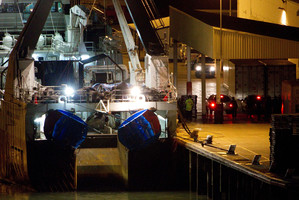 Three fishermen who perished when a trawler sank in New Zealand fisheries waters died of drowning, a Coroner has found.
But the tragedy highlights the difficulties faced by local authorities in getting foreign charter vessels to adhere to New Zealand safety standards before going out to sea.
Now, Coroner Richard McElrea has made a series of recommendations to increase safety on fishing vessels operating in New Zealand waters.
He recommended the Government, as a matter of priority, signs up to two international fisheries safety conventions.
The coroner also supported proposals for foreign charter vessels to go through extra training for all fishermen before they leave New Zealand ports.
The recommendations were made after a week-long inquest last April into the deaths of three Indonesian seamen - Heru Yuniarto, 25, Samsuri, 39, and Taefur, 35.
Coroner McElrea ruled they died by drowning when their Korean-registered trawler, Oyang 70, sank in calm conditions 740 kilometres southeast of Dunedin on August 18, 2010.
The 51-strong crew was made up of 36 Indonesian, eight Korean, six Filipino and one Chinese national.
A total of six people died in the sinking, with 45 seafarers surviving - described by one inquest witness as "an absolute miracle".
The Oyang 70 was owned by Sajo Oyang Corporation in Korea and was charted by New Zealand fishing company Southern Storm Fishing.
It was trawling for southern blue whiting when a "very large catch" caused the already unbalanced ship to list.
Oyang captain Hyonki Shin refused to throw fish away and instead tried to bring the nets on board.
But the full nets caused water to flood the ship and immerse its massive internal factory.
A call to abandon ship came and life rafts were deployed with most of the crew managing to escape the sinking ship in lifejackets.
The captain was last seen "sitting hugging a pole in the wheelhouse and crying after having drunk from a bottle".
He went down with the ship.
The inquest heard that Captain Shin's attempt to haul the 120-tonne bag of fish on to the trawl deck of a vessel with "marginal stability" set in place a "catastrophic and sudden" chain of events that he was unable to counter.
Coroner McElrea ruled that he failed to act in a professional manner, did not ensure the emergency procedures were understood by his crew, and didn't carry out any form of abandon ship training.
"The vessel was not run in an orderly fashion and there was a poor safety culture," he said.
- APNZ