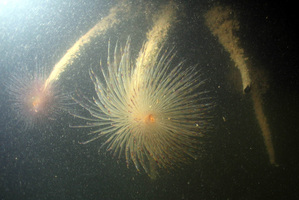 Northland biosecurity officials hope to hold back the tide of an invader being carried into Whangarei Harbour on boats.
Marine services bosses fear a local presence of Mediterranean fan worm will jeopardise the industry, the local economy and the ecology.
The fan worm (Sabella spallanzanii), listed among the worst 10 marine pests in the world, has been discovered in Whangarei waters this summer but not yet in Northland's other 14 harbours.
Auckland waters are heavily infested.
Industry watchers are concerned about a lack of protocols between regional councils and other authorities regarding the movement of infested vessels.
Shipbuilder Peter Ducrot said vessels have recently been brought to Whangarei's port with Auckland authorities and Ministry of Primary Industries (MPI) knowing they carried fan worm.
"If we really want to wreck our harbour and ultimately scare away vessel projects of real value, totally destroy our seafood and newly formed marine reserves then we are heading in the right direction."
He said the "business community in Auckland [is] hell bent on shifting all their marine wrecks into our marine slum [and] some Whangarei business leaders were encouraging marine industry at all cost".
"They are all aware of the major problem that exists in the Auckland port with these same marine pests," said Mr Ducrot.
One problem vessel arrived from Auckland two weeks ago, only days after Northland Regional Council made a presentation to the local industry about the dangers of fan worm.
NRC staff are working with the owners of the vessel at Port Nikau to get it hauled out of the water and cleaned this week. Other infested boats have also had to be cleaned up.
One of Port Nikau's directors is regional councillor Tony Davies-Colley. Mr Davies-Colley said he has since been shocked to learn how serious the fan worm issue is.
He said the ministry had an obligation to help regional councils fight fan worm incursions and called for the development of industry and biosecurity-agent protocols.
NRC biosecurity manager Don McKenzie said he believed there was still a window of opportunity to prevent the fan worm taking hold.
"The message for anyone moving a vessel is slip it, clean it and anti-foul its hull," he said.
Fan worm was a high priority unwanted organism under the Biosecurity Act and it was unlawful for anyone to knowingly transport or harbour it, Mr McKenzie said.
"We want the marine industry to tell us when they know of a possible risk coming in to Northland. We're relying on people to inform us."
For more articles from this region, go to Northern Advocate