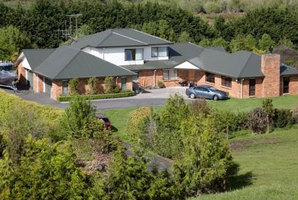 Drug kingpin Stephen John Gray has been sentenced to 12 years in prison and forced to hand over more than $5 million of assets - the largest forfeiture in New Zealand history.
The 56-year-old was sentenced for his "calculated offending" when he appeared before the High Court at Auckland this morning.
Gray had five years knocked off his original sentence because he agreed to give $2.7m worth of property and cars, as well as $2.4m of profits from his drug dealing enterprise, to the Crown.
The well known businessman, who ran car yards in Hamilton, was convicted of manufacturing and supplying methamphetamine after a trial in the High Court at Hamilton late last year.
He was also found guilty of cultivating and supplying cannabis, and supplying ecstasy and LSD.
Imposing a minimum non-parole period of five-and-a-half years, Justice John Priestley said Gray was the "architect and principal operator" of a substantial drug selling operation from which he must have reaped huge returns.
His arrest followed a five-month investigation in 2009 by the Waikato organised crime squad - codenamed Operation Cape.
The court was told police intercepted communications between Gray and his associates which indicated he had sold more than 1.682 kilograms of methamphetamine.
More than $150,000 cash was found in Gray's home near Hamilton, as well as 183g of P - with a street value of more than $180,000.
Police also found cannabis plants growing among shrubs on his driveway, and cannabis stashed in a lawn mower catcher.
Secreted on his 295ha farm near Raglan, dug into hillsides and camouflaged, were devices and substances associated with methamphetamine manufacture.
During his trial, Gray gave evidence that he had only sold small quantities of drugs, and the money found in his home was earned legitimately as a car dealer.
Justice Priestley said he found his evidence "unconvincing and undoubtedly fabricated".
"Your brazenness and your calculated offending is disturbing. You were a drug supplier on a major scale and deserving of severe punishment.
"You were well aware of the destructive force of the drugs you were selling and the misery it could bring to other lives. You benefited from a constant flow of untaxed drug money. You well knew the risks. This was not impulse offending, or one-off offending, it was deliberate and sustained."
Five others, including Gray's son, were also convicted or pleaded guilty to drugs charges.
Justice Priestley criticised Gray for encouraging his son to become involved in his various illegal activities.
"You now stand to lose a substantial portion of your assets - over $5m. A lengthy term of imprisonment, as you know, will be imposed on you. You have brought shame and disgrace on yourself and, to a degree, on your family."
Justice Priestley determined the $2.7m worth of property and cars forfeited to the Crown could be seen as a mitigating factor because they were not proceeds from his crimes, while the $2.4m in drug money did not result in any sentence reduction.
Detective Sergeant Craig Hamilton of the Waikato organised crime squad said Gray's wealth was a direct result of making and selling methamphetamine.
"That means he can't keep it. Buying flash houses and farms doesn't legitimise drug money and the 2009 Criminal Proceeds (Recovery) Act ensures that we can get at the cash and the
properties."
It is the second such forfeiture in two days.
An order of $1.2m was made against Auckland man Feng Chih Hsu in the High Court at Auckland yesterday after he was found guilty of large scale methamphetamine and firearms offending.
Detective Superintendent Peter Devoy, national manager financial crime group, said asset recovery units were having significant successes under the legislation.
"Combining the two results means we have taken $6.3m back from drug offenders over the past two days."
Police currently hold restraining orders over assets worth an estimated $109.5m
Police Minister Anne Tolley said 322 assets worth an estimated $26m had been forfeited since the Government introduced the proceeds of crime recovery act in December 2009.
"Criminals are getting what they deserve, and need to get the message that we are serious about locking them up and putting them out of business."