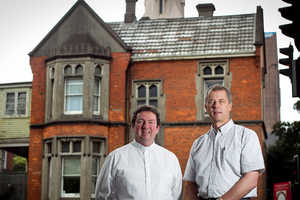 The 1888 Gothic revival presbytery beside St Patrick's Catholic Cathedral in Auckland CBD is an earthquake-prone building.
Cathedral general manager Kevin Sherlock said Auckland Council had assessed this unreinforced brick masonry building and added it to its dangerous building list as part of a wider audit of city buildings, now under way.
An upgrade and seismic strengthening of the two-level red brick structure on the corner of Hobson and Wyndham Sts and St Patrick's Square has been planned for some time. In 2002, the cost estimate was $1.7 million, Mr Sherlock said.
A fundraising campaign will have to be mounted for the Category A heritage building on the Historic Places Trust register and scheduled by Auckland Council.
The presbytery, designed by Edward Mahoney & Sons, is now 125 years old and the Catholic Times reported on February 25, 1888, how the planned premises would serve the community.
"It is surely only justice to the clergy, and a debt to the fair name of the Catholics of Auckland, that decent and respectable dwellings should be provided for those who spend their health and strength and their lives for the good of the people.
"The poor and mean housing of the clergy of Auckland has been a byword in other dioceses for years, and we hope to see this reproach blotted out," said the publication.
St Patrick's Cathedral was upgraded in a $12.8 million strengthening, refurbish-ment and restoration project, started in 2005 and finished in late 2007, three years before the devastating Christchurch earthquakes.
"We knew the cathedral was a seismic risk, especially the bell tower," Mr Sherlock said of the 37m-high structure.
"We have a duty of care to visitors, our parishioners and people walking around the building in that if we had an earthquake, the bell tower could have come down and it could do some damage for quite some distance. Now, there's steel inside it and although a brick or two might fall, the bulk of the structure would stay intact."
A project control group was formed for the cathedral and Mr Sherlock said that took a proactive approach to the seismic issue in 2002 during the planning phase for the restoration. The group also engaged engineers Connell Mott MacDonald.
"Securing requirements and strengthening proposals were detailed in the Connell report," Mr Sherlock said.
"Given recent developments in the seismic issue, however, the 2002 upgrade proposals for the presbytery will have to be reviewed."