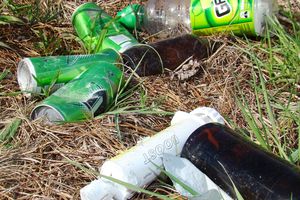 The New Zealand Transport Agency is appealing for information about the dumping of over three tonnes of rubbish at a rest area on State Highway 1 near Karapiro this week.
Highway network operations manager, Karen Boyt said the agency had to remove the dumped material yesterday and believe it was likely dumped before Tuesday.
"The rubbish was left near the back of the rest area located about a kilometre south of
the Keely Reserve/boat ramp, where it could not be seen from the highway or from across the river," she said.
"It also appears that whoever did the tipping ensured that they left nothing in the rubbish that could identify them."
Anyone with information about who may have dumped the rubbish should contact 07 958 7220.
Meanwhile, a surveillance operation has failed to catch people dumping rubbish on roadsides and reserves in Western Bay of Plenty.
The Western Bay of Plenty District Council set up surveillance cameras in a bid to catch offenders but council officers said some of the cameras were vandalised or poor footage was obtained.
Utilities environmental and compliance officer Ilze Kruis told the Bay of Plenty Times no prosecutions had been made as a result of the initiative since the moveable cameras were installed at notorious rubbish dumping spots in early 2012.
"It's hard to express how we felt when we came across these challenges and, yes, it was disappointing because we ended up getting limited information from the cameras.'' Mrs Kruis said.
Foliage sometimes obscured the camera lens, the camera was vandalised or culprits dumped outside of the camera's range.
"A number of photos have captured good footage however most lacked accurate identification of the vehicle and/or occupant, making it impossible to prosecute.''
The cameras were removed last year.
Latest Western Bay of Plenty District Council figures show about 300 cases of illegal rubbish dumping a year, since 2009.
In January and February, the council fielded 47 requests to remove rubbish, a third less than the same time last year.
Despite this, there are a number of hot spots that continue to be problem areas, particularly Lund Rd, Aongatete and Bell Rd, Te Puke.
The council has had some success identifying dumpers by items in the rubbish.
In such cases, the council wrote to them and asked for an explanation and requested they pay for the disposal cost, Mrs Kruis said.
A Lund Rd resident, who spoke on the condition she was not named, said she and other residents were disgusted to find a truck-load of smelly household waste dumped about three weeks ago. "There was a queen-sized bed and mattress, a big round bin full of ashes, a wooden box full of stuff like toasters and other crap.
"It is upsetting because it degrades the whole road for the people that have to go past it. It's quite disgusting.''
Since January, Tauranga City Council has received 125 complaints about illegally dumped rubbish.
Council manager of environmental compliance John Payne said most dumped items were household and garden rubbish.
Mr Payne urged the public to help in the fight by taking a photograph of the alleged offender, record number plates on cars and report it to the council to be logged and followed up.
- nzherald.co.nz / APNZ