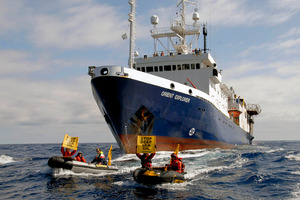 A High Court judge has overturned a District Court ruling that charges against ship captain Elvis Teddy were invalid, meaning he will have to resume fighting the charges.
The San Pietro skipper was charged with resisting arrest and operating a vessel in an unsafe manner causing unnecessary risk, after police boarded his protest flotilla ship in April, 2011.
He was allegedly in breach of the exclusion zone around the oil exploration vessel Orient Explorer, which was carrying out a survey of the Raukumara Basin for Brazilian oil giant Petrobras.
The charges were dropped by Tauranga District Court judge Patrick Treston after he concluded there was no case to answer because the alleged offending had occurred outside New Zealand's territory.
However, in his decision, released today, High Court judge Justice Mark Woolford overturned this ruling, meaning Teddy's defended hearing will resume.
Justice Woolford found the Maritime Transport Act was applicable beyond New Zealand territorial sea, and the arrest was therefore valid.
"No other state has the ability to exercise jurisdiction over New Zealand flag state ships on the high seas. Accordingly, in order for New Zealand to meet its international obligations, [the act] must apply to all New Zealand ships whether within or beyond New Zealand's territorial sea.''
New Zealand would be in breach of its international obligations if the act did not confer jurisdiction to arrest seafarers who were breaching New Zealand's navigational laws.
He also found that New Zealand police did have the power to stop and board Teddy's vessel beyond New Zealand's territorial sea.
"In this case the police had good cause to suspect that the respondent had committed an offence on the vessel as they had seen the San Pietro repeatedly sailing within 20 metres of the Orient Explorer. They had warned the respondent but he had nevertheless continued to keep sailing dangerously close to the Orient Explorer.''
They had also been entitled to arrest Teddy without a warrant because they found him allegedly committing an offence punishable by imprisonment.
Mr Teddy has previously said the Government had been arrogant to assume it could bully the protesters when it had no jurisdiction to board the vessel.
"They used the navy, the military, all their police resources and Crown Law to bully us for their big oil friends, but they were found wanting by their own law.
"It shows tiny iwi and indigenous people can take a stand, and can hold the Government to account. I hope Petrobras and the Government have got the message by now that we don't want deep sea oil drilling in the Raukumara Basin.''
- APNZ