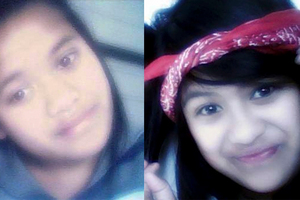 In their final moments, two teenage sisters sat together in the back of a speeding car on their way to a Tauranga family cemetery for a Christmas Day visit.
Neither wore a seatbelt but one could be seen making a hand gesture boasting that she was from the "west side", a court heard yesterday.
The other told the driver, Hetaraka Hikurangi Reihana, she was scared and she wanted the unlicensed and disqualified motorist, driving an unregistered car, to slow down.
Soon after, both girls were killed - thrown from the car when it collided with a westbound ute on the outskirts of Tauranga.
Brooklyn Morehu-Clark, 13, died instantly. The car she was in came to a stop on top of her. The body of Merepeka Morehu-Clark, 14, was found on a grass verge.
The girls' mother, Phillippa Vanessa Morehu, 37, is one of three people on trial for their manslaughter.
She, Hetaraka Hikurangi Reihana, 21, and Haki Tepuere Davey, 18, have all denied the charges stemming from the 2011 crash.
Crown prosecutor Greg Hollister-Jones said the girls' deaths were "absolutely predictable" and the result of "alcohol-fuelled madness".
He said the trio, none of whom was licensed to drive at the time, had been drinking and decided to race their unsafe cars to the cemetery.
The court heard Morehu started drinking just before lunchtime before Reihana and Davey arrived laden with beer and RTD bourbon drinks.
The trio enjoyed several drinks before the two men were heard discussing racing to the cemetery.
Morehu asked to drive Reihana's car as it had manual transmission.
She also saw Reihana was "drunk to the point of being clumsy" having downed six to eight cans of beer and six shots of vodka.
Reihana had a learner's licence but was disqualified from driving. Morehu handed him the keys to her red Honda, which was also unregistered and without a warrant of fitness. He was the last to leave the Orion Rd home after Morehu and Davey, who was forbidden by police from driving.
With his 2-year-old daughter in the front seat sitting on the lap of Morehu's oldest daughter, and sisters Brooklyn and Merepeka in the back, Reihana tried to catch the pair.
Mr Hollister-Jones said what followed was similar to scenes from the movie The Fast and the Furious as Reihana tried to chase the others.
"One of the young girls who was killed just minutes later was seen to be signalling some kind of 'west side' hand signal out the car window as they raced along," he said.
"The other girl who was shortly to die was telling the other occupant she was scared and wanted Reihana to slow down but he continued to drive in this highly reckless manner ... to an inevitable conclusion."
Brett McCready was returning from a Christmas meal at his mother's Whakatane home. He recalls seeing the red Honda going out of control.
"He was speeding excessively - I estimated it to be about 160km/h, I said to myself, 'You f***ing idiot'."
A crash was inevitable, he said. "I remember seeing the roof of the car. Next minute I'm upside down."
Mr McCready suffered minor injuries and was angry but his feelings quickly turned to sorrow as he realised the two girls had been killed. He saw Reihana standing next to the wreckage saying repeatedly: "It's not my fault ... I didn't want to drive."
Police later breath-tested Reihana, who returned a reading of 157 micrograms per litre of breath - nearly twice the legal limit.
The trial is set down in the High Court at Hamilton before Justice Murray Gilbert for three weeks.