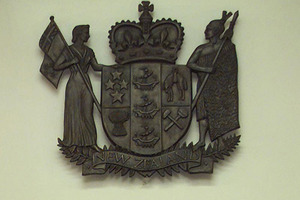 A two-year-old boy admitted to Whakatane Hospital in a hypothermic state is to receive $1000 emotional harm reparation from one of three people charged over the incident.
Judge David McKegg granted permanent name suppression to a 19-year-old woman charged with suppressing evidence in the case when she appeared for sentencing in the Whakatane District Court today.
She was sentenced to nine months' supervision and ordered to pay $1000 to the child.
Police had initially charged the woman with wounding with reckless disregard but withdrew the charge and replaced it with suppressing evidence.
Eunice Towns, 42, has pleaded guilty to a charge of causing grievous bodily harm to the 2-year-old while her husband, Stephen, 52, has pleaded guilty to assaulting the same child.
Both are to be sentenced in the Tauranga District Court on March 26.
During today's sentencing, the woman's lawyer, Rebecca Plunket, said the extent of the teenager's offending was not to tell the interviewing police officer that the shower had been cold.
Her client offered $1000 emotional harm reparation for the youngster. She suggested it could be used for educational purposes or put in trust until the child reached a certain age.
Ms Plunket also sought permanent name suppression for her client, describing her as fragile and someone who would not cope with the external pressure of the public being aware of her offending.
Crown prosecutor Jasper Rhodes said he was not opposed to permanent name suppression being imposed.
Judge McKegg said he was on the same page as both Ms Plunket and Mr Rhodes.
"In a lot of ways here you are a victim yourself, " Judge McKegg said.
"I will not look a gift horse in the mouth as far as the offer of emotional harm reparation and I do believe the reformative sentence of supervision meets the needs of yourself and your community."
For more articles from this region, go to Rotorua Daily Post