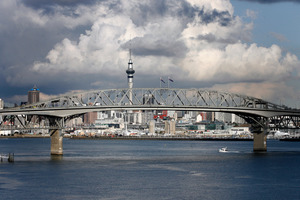 At least three people were rescued from Auckland's Waitemata Harbour this afternoon when their boat capsized near the harbour bridge.
Multiple 111 calls were received about 3.45pm by motorists on the bridge and police and Coastguard rushed to help. Inspector Willy Taylor, of police northern communications, said some members of the public joined the rescue, including one person on a surfboard.
Mr Taylor said there were conflicting accounts of exactly how many people ended up in the water. There were at least three but another report said five people had been rescued, which he thought could include some of the people who went to help.
"A group has been out rowing around the Sulphur Beach, Northcote Pt area ... they were on the city side of the harbour bridge [when it capsized]."
He confirmed they were all wearing lifejackets, but was unsure what type of boat they were in.
"It's differing on whether it was a yacht or a rowboat, we're not quite sure, but everyone has been recovered safe and well."