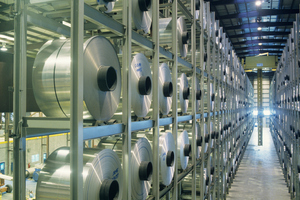 An electrical fault in a fluorescent light fitting caused the fire that extensively damaged the Fisher Aluminium factory in Gisborne last month.
The fire service said it serves as a reminder for anyone with this lighting to make regular checks.
Fire broke out in a storage area at the rear of the aluminium factory at 7.20am on February 13.
Quick work by firemen and favourable winds stopped it spreading to the adjoining Traue timber joinery factory.
Fisher Aluminium is at the rear of the timber joinery factory.
Fire investigator Derek Goodwin said the owner's insurers had called in an electrical expert from Auckland to make an analysis of the building's electrical systems.
"The electrical fault with the fluorescent fitting was his finding," Mr Goodwin said.
The ballast, or capacitor, of a fluorescent tube holds the power that feeds the light.
On rare occasions it can overheat, then go on to cause problems.
"It appears that has happened in this case," Mr Goodwin said.
The light fitting overheated the day before the fire and caused the timber ceiling material above it to start smouldering, Mr Goodwin said.
"The light was switched off overnight but when a staff member opened the door into the storage area next morning, the inrush of fresh air caused the smouldering timber to ignite."
Fisher Aluminium manager Kath Kitchen said they were relieved to have a cause finally established.
The fire service makes several recommendations when it comes to fluorescent lights.
"Good housekeeping is important for them - regular checks of the lights operation and good general maintenance," Mr Goodwin said.
That can mean keeping dust off them, and ensuring that nothing is stacked too close to them, he said.
"Sometimes a smell can be generated by overheating and it's best to call in a qualified electrician when that occurs."
If in doubt, call the fire service.
"We can quickly identify which light may be causing an issue, by using specialist equipment," Mr Goodwin said.
Firemen use temperature probes or thermal imaging to get to the source of the problem.
Nationally, on average there are between five and seven reports of fluorescent lights causing fires each year, Mr Goodwin said.
In 2008, there was a recall of ballasts from fluorescent lights made that year.
"It is unlikely the Traue fire would have been affected by the recall, because their lights were installed back in the 1990s," he said.
"People need to understand there are perhaps millions of these lights in New Zealand. Only a very few fail."
- The Gisborne Herald