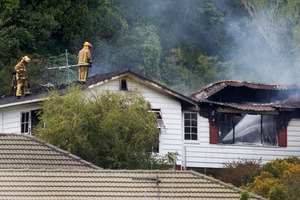 An elderly woman who was trapped and killed in a Wellington house fire will be formally identified in a post-mortem examination today.
Margaret Beverley Hall, 82, known as Beverley, died when a blaze ripped through her home in suburban Karori on Monday morning.
A death notice today said Mrs Hall had "died tragically" and was dearly loved by husband John and their Australia-based children Chris and Elaenor.
Funeral arrangements would be advised later.
Police said they would not be able to confirm the woman's identity until a post-mortem examination was completed this morning and, if that failed, DNA testing may be required.
Detective Senior Sergeant Donna Howard said preliminary indications were that the fire was not suspicious.
Karori fire station officer Nic Bush on Monday praised the actions of locals who tried to enter the Woodhouse Ave house.
"Their efforts with garden hoses helped prevent the fire from spreading to a neighbouring house. The house itself was so well involved that it required firefighters with five fire hoses to douse the fire and search the building," he said.
"We could see that the fire was a 'goer' as soon as we came over the hill."
Mr Bush said the house had been locked, which had hampered the efforts of neighbours trying to enter.
- APNZ