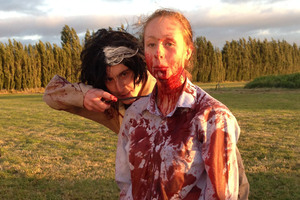 Noise Complaints from neighbours have closed the Horror Maze on the outskirts of Christchurch, just five weeks into its three-month season, leaving up to 50 people without work.
The Selwyn District Council issued an abatement notice last month asking the maze to reduce its noise levels after several complaints from nearby residents. The maze, on Marshs Rd, employs actors, shop staff, and a security team.
Actors in the maze dress up as horror film characters like Freddy Krueger from cult horror movies A Nightmare on Elm St, and Jason from Friday The 13th.
They are stationed inside the corn maze to scare groups of customers walking through.
Owners Douglas Middlemiss and Ali Kyme are angry over the closure and are now consulting a lawyer to get the district council decision overturned.
"They said I had to either reduce the noise or close. They said we were over the noise level by 2.7 decibels which apparently is the sound of someone clicking their fingers," said Mr Middlemiss.
"But I have already done everything possible to reduce noise, I have told my actors to reduce their voices and we even got people to wear dust masks to reduce their laughter and screams.''
Maze actor Aaron Lovelace, 42, who plays Freddy Krueger, said he had paid almost $1000 for his costume.
"After nearly two and a half years of fighting insurance companies, EQC and losing our biggest asset, our house, I look forward to my weekly trip to the maze as an outlet for all the stresses that build up," he said.
Actress Ash Walker, 19, is worried about her loss of income.
"Because of it being shut down I've lost the only source of income I get to myself. Everything else goes to rent, power, etc so to lose this is not only sad, as I love working at the maze, it's also a kick to my finances. It's also very upsetting for us at the maze. We genuinely do this for the love of it," she said.
Selwyn District Council environmental services manager Tim Harris said four complainants have been in "regular contact" over the past couple of weeks and the maze had breached noise regulations by "two-four decibels".
However, Mr Middlemiss says noise from the Horror Maze is not excessive.
The neighbours who have complained refused to talk to The Star.
Selwyn district councillor Malcolm Lyall said neighbours had spoken to him.
"Apparently it is a glorified party atmosphere for young people. Neighbours have found people urinating in driveways and sneaking into the maze from their properties," he said.
However, one neighbour Neil Gardner, said he had no issues with the maze.
"I have no problem with the Horror Maze at all, there have been no incidents whatsoever," said Mr Gardner.
"If you are sitting inside with the windows open there is no noise at all; you can't hear a thing. If you are sitting outside you can hear slightly laughter and families just having a good time. But it's only on a Saturday for a couple of hours."
Senior Sergeant Pete Stills said police had no issues with the way the maze was run.
- The Star