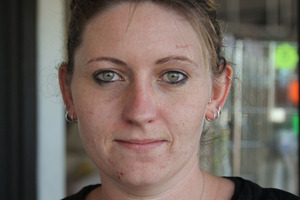 A couple is angry they had to catch a suspected burglar because police wouldn't respond quickly enough to a break-in at their home.
Melissa Skurr and JC Anderson arrived home late last Monday morning to find their home in Aranui, Christchurch had been broken into and a laptop, hard drive, PlayStation 3 console and gaming laptop missing.
An attempt had been made to steal a quadbike from the garage.
Ms Skurr called 111 and reported the burglary and told police she feared the offenders would return to get the quadbike which was sitting in the driveway.
She said the couple decided to take the law into their own hands after police told them they could not attend for 48 hours.
Ms Skurr parked her car across the road and Mr Anderson hid in his car on their section.
Two hours later Ms Skurr watched a youth walk along Breezes Rd and up her driveway with a pair of gloves. She texted Mr Anderson saying "someone was coming".
"It was a crazy plan but we had to try it," she said.
Mr Anderson said he watched the youth start pushing the quadbike down his driveway before tackling him to the ground. "He wriggled free and ran up the driveway. I chased after him."
The suspect, a 17-year-old, ran across the road towards Ms Skurr, who chased after him in her car.
"I trapped him in between a storage container and called police. My partner tackled him again and held him on the ground until they arrived," she said.
Police arrived five to 10 minutes later.
Mr Anderson said the teenager was crying and saying "don't get me arrested, I'm only 17, I know where your laptop is. I'll get your laptop back if you don't call the police."
The teen said he didn't do the burglary but was told by the people who did to go back and get the quadbike.
Ms Skurr said she was angry and frustrated with the initial police response.
"It felt like the burglary wasn't seen as a priority. I was surprised that we caught him. It's pretty shocking when you think about it. We had to take the situation into our own hands.
"I was angry with how my complaint was dealt with. That's the police's job and we did it for them."
Police defended their decision to delay attending the complaint and told members of the public not to apprehend offenders they saw on their property.
Detective Inspector Greg Murton said burglaries were prioritised according to urgency.
"Police do not report response times for burglaries. The majority are attended by scene of crime officers. Any fingerprints or DNA hits are immediately followed up. Police actively target areas where burglaries are occurring and target active offenders."
Mr Murton said all burglary files were assessed and viable lines of inquiry investigated further.
"The majority have no viable lines of inquiry so cannot be investigated on an individual basis beyond the initial assessment. Active inquiries are under way into the Breezes Rd burglary," he said.
In another twist, Ms Skurr tracked down the 17-year-old, who has been charged with burglary, through Facebook and has been in contact with him to try to retrieve her gear.
"He said he would swap my quadbike for my laptop. I have spent the last week trying to track them down and have given a lot of information to the police."