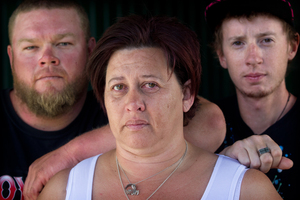 The brother of a teenager killed in a car smash is suffering from the incredibly rare broken heart syndrome, his mother says.
Seventeen-year-old Annalese Bacon died when the drunk, drugged, speeding driver of the car she was in lost control and crashed at Reporoa.
Her mother Darlene Fiveash said her 17-year-old daughter met the driver, Trent Robertson, just a week before the fatal crash.
In October last year, Robertson was drunk, had been smoking cannabis and was driving a car with home modifications at speeds of up to 130km/h when he lost control between Taupo and Rotorua, crashed into a fencepost and flipped the car onto its roof.
Annalese was a front seat passenger in the vehicle and died at the scene.
Yesterday, Robertson was sentenced at the Rotorua District Court to three years prison, and had his licence suspended for five years, for driving dangerously causing death, driving with excess blood alcohol causing death and driving while suspended.
"A perfect stranger killed her" and the death had left a hole in her family's hearts and lives, Ms Fiveash said.
Annalese's brother Henry had been hospitalised with broken heart syndrome, which presents itself like a heart attack.
The syndrome was brought on by the heart's reaction to a surge of stress hormones.
He was still suffering from the affects of the condition and takes medication to control it, Ms Fiveash said.
She was devastated Robertson received a prison sentence of just three years.
"No matter how much time he got in jail it would never be enough to justify a life.
"I was hoping he'd get at least five (years jail).
"(But) I'm very happy he's behind bars."
Ms Fiveash was also pleased Robertson was going to be off the road with a five-year driving suspension, and if he did drive within that time and was caught, he would be sent back to jail.
She said he had never apologised to her family about the crash.
"He has never looked at us. I started off my victim impact statement yesterday by asking him to turn and look at us - her family and friends."
Robertson quickly glanced at them, she said.
"You have stolen the light out of our lives and replaced it with darkness and sadness," she said in her statement.
Judge Cooper said on the day of the crash Robertson and the three passengers had been drinking alcohol and smoking cannabis. His car had a bald tyre down to the steel and he had uncertified modified suspension "which was held in place by plastic cable ties".
Police investigators assessed his speed at the point of impact at 118km/h. The two rear passengers said at times Robertson was driving at between 120 and 130km/h.
- additional reporting by Alison King of the Daily Post
Broken Heart Syndrome:
* very rare condition suffered usually by middle-aged and elderly women;
* presents like a heart attack;
* a portion of the heart muscle becomes dysfunctional;
* can usually be corrected in weeks or months; and
* is an abnormal response to stress and an onset of hormones.
(Source: Professor Norman Sharpe, Heart Foundation's medical director)
apnz rdp rq gf
- APNZ