Extending line just throws good rates money after bad.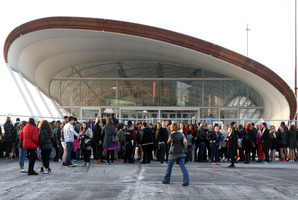 The heritage tramline in the Wynyard Quarter had a couple of things going for it when it was rushed into action for the 2011 Rugby World Cup. First, it cost a relatively modest $8 million to set up the two vintage trams and the 1.5km circuit. Second, it was just possible the operation could have the sort of appeal that has made trams a popular attraction in cities such as San Francisco and Melbourne and, closer to home, Christchurch. The Wynyard initiative, brought to life during the twilight of the Auckland Regional Council, seemed worth a punt. Unfortunately, it has not worked, so much so that it would be folly to spend a further $8.2 million extending the tramline to Britomart.
The use of the trams tells the story. Monthly patronage fell from more than 15,000 passenger trips during the World Cup to below 2000 in March last year. Even if there has been a slight recovery since, this needs to be placed in context. Other heritage tramlines do far better. The Museum of Transport and Technology's line at Western Springs, for example, carries about 16,000 passengers a month.
Quite simply, the Wynyard Quarter line has not caught on. In some measure, this surely reflects the steep $10 fare extracted from tourists for a relatively short trip around an area of mundane commercial development.
After just 18 months of operation, Waterfront Auckland appears to have decided the message is clear. It has withdrawn funds needed to keep the trams running. This has drawn a strong response from Mike Lee, who championed the initiative when heading the regional council and is now the chairman of the Auckland Council's transport committee. He talked of a "failure in management" by Waterfront Auckland in delaying plans to extend the tracks to Britomart.
Clearly, he believes the tram circuit's disappointing performance would magically be transformed by this extension, which, according to the mayor's office, is "still planned as part of an integrated public transport network". Pressing ahead with this link to Britomart would, as Mr Lee suggests, mean the trams were no longer solely a novelty attraction. But it is highly unlikely the extension could play a meaningful public transport role, let alone a successful one.
Certainly, there is a strong case for a direct connection between Britomart and the Wynyard Quarter, most particularly for the officer workers who commute to there. This need is increasing, with about 1500 ASB Bank staff soon to shift into the new North Wharf Building and the possibility of a further 900 people travelling to the quarter each day if Fonterra decides to place its new world headquarters there. But these workers will surely not want the final leg of their trip to work to be aboard slow, clanking trams like those running around the Wynyard circuit. Modern light rail would be a far preferable option to both trams and buses if a way can be found to accommodate it along the southern and eastern edges of the Viaduct Harbour.
The Wynyard Quarter circuit should have been a chastening experience to those who advocate a return to trams. In their enthusiasm, they have espoused extending the tramline onwards along the waterfront, up Queen St, down Dominion Rd and elsewhere, retracing the routes of the first half of the 20th century. That was always a pipe dream. People today want public transport to be quick, quiet, efficient and convenient. On that basis, spending a further $8.2 million to extend the tramline to Britomart would be a case of throwing good ratepayer money after bad.