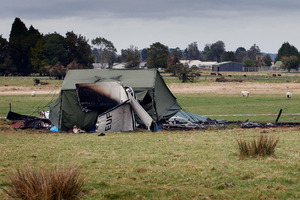 Six months after an inquest into the Fox Glacier air tragedy that killed nine people - and with the coroner's findings still awaited - the industry expects restraints will become mandatory in skydive planes.
The September 2010 crash, on the afternoon of the first Canterbury earthquake, occurred shortly after takeoff from the Fox Glacier airstrip. The plane burst into flames, killing everyone on board.
The victims were found piled up in the rear of the plane, although it was debated whether that caused the crash or happened after the plane spun out of control.
In closing the inquest last September, coroner Richard McElrea said he would be calling for extra evidence, including the actual weights of all individuals on the fatal flight, and it could be several months before his official findings were released. Six months later, people are keenly awaiting his findings and recommendations.
Mark Horning, who bought Skydive NZ after the accident, said the obvious recommendation people were anticipating was that some form of seatbelt should become mandatory.
His company, renamed Skydive Fox, fitted restraints to its planes some time ago.
"I am very interested to see the coroner's report, I'd like to see how it differs from the TAIC (Transport Accident Investigation Commission) report."
Australian woman Karen Bourke, whose son Glenn died in the crash, told Radio NZ today that Civil Aviation had recommended mandatory restraints back in 2003.
"There's not a passenger plane anywhere in the world that doesn't have a seatbelt, except in New Zealand."
In May, the TAIC ruled that the Skydive NZ plane in the fatal crash had been illegally modified and that two of the skydive masters had cannabis in their systems. The subsequent inquest heard that parts of the Skydive NZ plane, including the control stick, were buried in a paddock soon after the crash at the direction of the TAIC.
The dead were: Tourists Patrick Byrne, 26, from Ireland, Glenn Bourke, 18, from Australia, Annika Kirsten, 23, from Germany, and Brad Coker, 24, from England; Skydive masters Adam Bennett, 47, Michael Suter, 32, Christopher McDonald, 62, and Rod Miller, 55, of Greymouth, and the pilot Chaminda Senadhira, 33, of Queenstown.
- The Greymouth Star