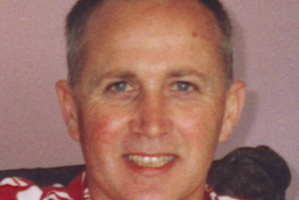 The wife of a man who fell 14m to his death on an adventure course has spoken about her frantic rush to get to him, and the devastating moment when she was told he was dead.
And she has defended the Tree Adventures company, saying she and her husband were properly briefed on safety before the tragedy.
Clifford Paul Brabet, 57, fell after stepping from a platform while taking part in a team-building day at Tree Adventures in Woodhill Forest near Helensville.
His wife, Liz, was with him when he died, two days before his birthday. He would have turned 58 today.
Liz said the challenge, which involves traversing an obstacle course suspended between trees, was awkward at first, but their confidence grew and they were having fun.
But Mr Brabet fell when a wire to which he was connected became unattached.
From the last section of the course, Liz heard her husband fall.
"It was terrible. I had to attach my pulley to the wire and go down the flying fox to the bottom.
"I just ran to him. People were saying they didn't think he had lived ... . I just stood by him. He wasn't moving."
A paramedic and doctor who were at the adventure course began CPR as Liz watched helplessly.
"I asked someone if they could bring a person back after 20 minutes and they said, 'Yes'. You sit there and you just hope, but Cliff didn't look good.
"They said to me, 'I'm sorry, but he's gone. There's nothing more we can do for him'. It's just a tragedy, a shocking tragedy."
The Government's labour service has closed Tree Adventures until further notice. Investigators carried out a full scene examination yesterday and took equipment Mr Brabet was using.
Liz was angry at criticism of the company and its safety procedures, including claims that safety briefings were not comprehensive enough and that the site was overcrowded and under-supervised at the time of her husband's death.
"People have been talking about how poor the training was, but it was very good. They took us out and showed us how to use the different parts of the apparatus.
"They were very clear as to how to use the gear ...
"The guy who took us through the pre-climb lesson did a really, really good job. They were good to us at the beginning, and they were good to us at the end. I couldn't have asked for more."
Mr Brabet's three adult children had been devastated by his death, as were Liz Brabet's two sons, who thought highly of their stepfather.
"He thought of them as his own sons, and they looked up to him like a father."
Mr Brabet also had two grandchildren.
"He was just the best. I used to say to him, 'I don't need to win Lotto, I've got you'," Liz said.
"I was really lucky. You just don't find many men like Cliff."
The couple had been together for 11 years, and married for two.
"He was a diamond. I will never find another Cliffy."
Tree Adventures co-director Jimmy Moore did not return calls or emails to the Herald but a statement issued on behalf of the company said staff were extremely upset.
"A tragic accident occurred, and we extend our deepest condolences to the family members and friends. Safety is always a number-one priority for Tree Adventures ... We insist on a lengthy and detailed safety briefing prior to anyone using the course, as well as ongoing supervision from Tree Adventures staff throughout participants' use of the courses."
Mr Brabet grew up in Auckland and worked as a computer and IT network administrator.