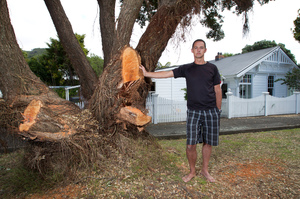 The family of a young cystic fibrosis suffer is battling against local authorities to remove a tree they claim is harmful to their son's health.
Damon and Nicole Smith want a huge pohutukawa removed because it shades their Titoki St property in Eastbourne, Wellington, all day - leading to damp and cold, which affect the health of Ferghus, 2.
Neighbours have sided with the family, with one vigilante attacking the tree with a chainsaw - but the local community board say the tree is "iconic" and "very important in terms of the treescape".
Mr Smith said the tree was having serious effects on their son's health. Cystic fibrosis is a genetic disorder whose sufferers are susceptible to chest infections.
"If they get an infection, that can lead to lung damage and it's quite often that which actually kills them," Mr Smith said.
"It's a day-to-day fight to keep him as healthy as possible and not let him deteriorate, to give him the best chances of a life."
A warm, dry home was "essential" to keeping Ferghus healthy, he said.
The Smiths commissioned a report, which showed the tree shades their property between 9am and 2pm for nine months of the year.
The local community board had approved the removal of five trees after residents' concerns about of the amount of shade they were getting, but stopped short of approving the removal of the tree outside the Smiths' place. One man took to the tree with a chainsaw and hacked off some of its branches.
Mr Smith said other groups had vowed to ensure the tree comes down, which also concerns him because the branches could fall on his house and injure someone.
If the tree did not come down, Mr Smith said, the family would have to move. "At the end of the day the health of our son is more important."
Eastbourne Community Board head Derek Wilshere said under the urban trees policy, trees were assessed on a street basis, rather than an individual basis.
He said the board looked at the issue of the shading in the street and Ferghus' health, which is affected by "what we believed to be the best tree in the street - a very important tree in terms of the treescape".
The board agreed to trim the tree and assess the situation in a year, and if the situation had not improved, "that tree could be removed".
A spokesman for Lower Hutt Mayor Ray Wallace said the community board had the responsibility for making decisions about the trees.
- APNZ