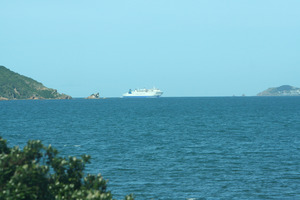 Being the first person to paraglide at 4000m for 30km over Cook Strait - one of the most dangerous and unpredictable stretches of water in the world - was a piece of cake, Matt Stanford says.
"There was a big element of risk, and what we noted was that through the planning and prep, we managed to mitigate that risk and in the end the actual jump went so smoothly that it was a relatively relaxing thing to do."
But he admitted to being "quite anxious" in the early stages of planning the ambitious task.
The British expat spent the past 14 months planning the flight, and over summer almost lost hope as poor weather and problems getting a pilot hampered his preparations. almost dashed his dream.
He and a friend concocted the plan after realising such a flight had never been done.
"We had the map out and we looked at it and thought, it's 28, 30km - it's probably do-able if you can get high enough."
Using a helicopter, Mr Stanford did get high enough and he jumped out above the Tory Channel, and aimed towards Oteranga Bay on Wellington's south coast, where his girlfriend Donna Meikle was waiting.
Mr Stanford said he had a perfect view of Mt Taranaki and flew over the interisland ferry.
"About half way ... I knew even if I hit a head wind, it would have to be a really, strong head wind for me to have gone down in the sea, and I was just relaxed."
The helicopter travelled about 500m behind him - staying close enough so other aircraft could see him but far enough away so the wind from the rotors did not collapse his paraglider.
The adventure set Mr Stanford back "a lot" of money, which he is trying to recoup through a fundraising website.
- APNZ