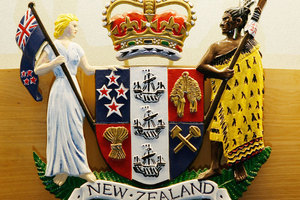 A woman whose husband has been charged over the death of their baby after a car crash says she supports him "100 per cent".
Wellington taxi driver Bililigne Gebretsadik, 40, pleaded not guilty over the crash that caused his wife to lose their unborn child when he appeared in Wellington District Court yesterday.
In a statement today his wife, Seble Cherie, 40, said she, her husband and their baby were victims and her husband did not run a red light before the crash in Wellington in June last year.
Gebretsadik was driving through Newtown with his wife in the passenger seat when they crashed.
His wife, who was 31 weeks pregnant, was injured. Their child died after an emergency caesarean.
The driver of the other car was also injured.
Gebretsadik was charged with careless driving causing death and two counts of careless driving causing injury.
"The police investigation took six months, all that time we were stressed because they kept telling us they needed more time and this made it hard to grieve for our baby. I feel very hurt by the treatment by police; I believe in God and always tell the truth, Ms Cherie said in the statement released through her lawyer.
She said she remembered the accident.
"I saw the other car hit us. I think the crash was a terrible accident - no one intended to hurt anyone - but I also saw a green light.
"A man helped me out of the car and wrote down his name and phone number on a piece of paper he gave to Bililigne, but now he says we caused the accident. I don't understand why he changed his mind.
Ms Cherie said she felt she and her husband had been treated unfairly and were not believed.
"The police asked me if I wanted to lay charges for the injury to me and to our baby, I said no, but they did it very soon after. I feel that discrimination has played a part in the decision to charge Bililigne."
Ms Cherie said the media interest in their case had been terrible for the couple, with reporters going to their home and calls from reporters all over the world.
"It has affected our daughter. I am worried for her. People asking questions in front of our daughter, she hears the questions about her father and you can see her face change when people talk about the case. She doesn't understand, but it worries her. Now I don't want us to leave our home or answer the phone. We are Christians, but we stopped going to church because of the pressure, it's too hard when people ask how we are."
Ms Cherie said that before the accident she loved living in New Zealand, even though it was hard for them because they were refugees.
"I felt it was a safe and good place for our family. It is hard here for us, but it is a good future for our daughter.
"We came to New Zealand from Ethiopia to find the right legal system, for our human rights. Because of the case I feel there is discrimination in the police. We told the truth. All humans should be treated the same and the system should be fair for everyone.
"I am making this statement because I want to tell the truth to the media and then to ask them to respect us. We are private people so this is very hard for us and we want to protect our daughter."
Yesterday Gebretsadik was remanded on bail to reappear in April.
- APNZ