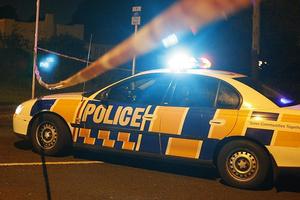 A police officer fired a warning shot as a man allegedly throttled a dog to near unconsciousness after a pursuit that reached speeds of 180km/h in Waikato last night.
District road policing manager Inspector Marcus Lynam said a member of the public reported a car travelling at high-speed passing on double yellow lines about 10pm.
The Holden VX Commodore Clubsport was spotted on State Highway 1. Police attempted to get the driver to stop but he raced off towards Hamilton.
Police gave chase and the vehicle ran off the road and into a line of trees after driving over spikes laid by officers near Airport Rd.
Despite being injured, two men fled the scene. A police dog tracked a 31-year-old year through several properties to the yard of a trucking company yard, where he was found in the cab of an immobilised truck.
Two police dog handlers and a dog tried to arrest the man but he assaulted one officer and ran off.
A police dog that had been unleashed ran after him. A dog handler rounded a corner to find the offender choking the dog to the point of unconsciousness.
He fired a warning shot from his pistol which caused the offender to loosen his grip.
"Officers involved described the man offering extreme resistance however he was able to be subdued," Mr Lynam said.
A police helicopter spotted the other man, a 34-year-old, as he attempted to flee and he was arrested in bushes without further incident.
Both men are under police guard in Waikato Hospital.
The dog will be examined by a vet later today.
The Independent Police Conduct Authority has been advised of the incident.
- APNZ