More complaints surface of heavy-handed behaviour at cricket although some spectators were impressed.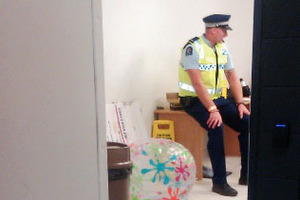 Further complaints have emerged of heavy-handed security at Eden Park during Saturday's one-day cricket international between New Zealand and England.
Police and security staff ejected 87 people from the stadium during the match, but none were arrested.
Andrew Joyce and his family chose not to attend after witnessing similar scenes at the T20 match at Eden Park on February 9.
On that occasion two families seated nearby left the game early after a father was ejected for throwing a paper dart.
"We had all witnessed a completely unwarranted and senseless eviction, and then had to endure additional security guards patrolling our area in case of further outbreaks of fun and happiness," Mr Joyce wrote.
Paul Cornish, of Devonport, told the Herald that on Saturday, security guards confiscated beach balls from the crowd.
After a spectator managed to get one back from security, it was taken again and ended up in the police base at the ground.
Gerwyn Samuel, a recent immigrant from Wales, could not understand why people would be evicted from a stadium simply for enthusiastically supporting their country.
"I find myself worried since I went to the cricket at Eden Park on Saturday," Mr Samuel said.
"Worried that a child will get thrown out of a ground for banging those inflatable ANZ sticks too enthusiastically. Worried that should I want to watch Wales play the All Blacks, I won't be able to sing!"
Another spectator, Andrew, said he was marched to a stadium gate and interrogated for 15 minutes after picking up a vodka bottle that had rolled under his seat.
"When I got back, even random strangers were like, 'What was that about? You weren't even doing anything'. There was no trouble, no aggro, no drunkenness. It was ridiculous."
However, several correspondents to the Herald said they supported the actions of the security staff.
"I sat in the east stand [old terraces area] at the game with my sister and my twin teenage daughters, and I, for one, was generally impressed with the level of security," Marg Northey wrote.
"Admittedly, there were times they appeared over the top such as when the guards took inflated beach balls off the crowd. But when I was hit on the head with a half-full bottle of beer, I was grateful that the security personnel were on hand to evict the idiots involved."
Mathew Szczepanski agreed. "While it is a shame some people were ejected for cheering too enthusiastically, to be honest all of the ejections were done quite fair!
"Some lads sitting nearby got ejected for shouting extremely obscene words, and while I can understand their frustrations as an avid Black Caps supporter, this is supposed to be a family friendly zone, and to be frank, these people had to go!" Mr Szczepanski said.
However, Kevin O'Carroll echoed the sentiments of many when he said he would not attend future events at Eden Park.
"I for one feel like I would not return to Eden Park, just in case I inadvertently have too much fun and suffer the wrath of some idiot in an orange vest who is intent on ruining a great atmosphere," Mr O'Carroll wrote.
"Please, please review your stance on security interventions at Eden Park, apologise to those fans who were ejected for virtually no reason at all, and if possible, contact them to offer free entry to at least one day of the forthcoming test match."
Watchdog firm subject of probe
The company in charge of security at Eden Park for Saturday's one-day international cricket match was the subject of an investigation by the Department of Internal Affairs, the results of which have been suppressed.
The Herald revealed in March 2012 that Platform 4 Group had operated security for events at Eden Park and Vector Arena despite not having a licence to do so. Contracts awarded to Platform 4 were passed on to Harrison Tew, with Platform 4 casual staff and independent contractors hired by the new company.
The nature of the relationship between the two companies was the subject of an investigation by the complaints, investigations and prosecutions unit at the Department of Internal Affairs.
The Weekend Herald reported the inquiry would focus on two key issues - Platform 4 Group allegedly operating without a licence and Harrison Tew allegedly acting as a front company.
The Herald cannot publish the findings of that investigation as it is the subject of a confidentiality order made by the Private Security Personnel Licensing Authority.
- Additional reporting: Ana Samways