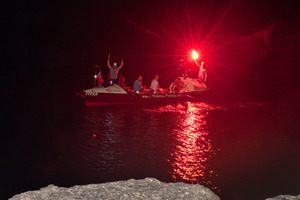 Exhausted rower Paul Gerritsen touched land this week for the first time in more than a month since he and five British men began their attempt at a record crossing of the Atlantic Ocean.
The emaciated crew of the Titan made landfall on Wednesday.
Gerritsen, 28, said the crew aimed to row 4814.6km unassisted from the Canary Islands to Barbados in less than 32 days in an 11m boat.
The Auckland firefighter was a last-minute addition after Andrew McCowan, of Matangi, fell ill with stomach problems.
"I accepted the challenge because I wanted to break a world record," Gerritsen told the Herald on Sunday from Barbados.
But the goal became one of survival when the weather turned wild and the crew ran short of food.
"You're at the whim of the ocean and weather. For 22 hours we kept getting pushed backwards, watching the record slip away from us."
With just eight days to go, the men were surviving on one freeze-dried meal a day, nowhere near enough energy to row 12-hour shifts.
Gerritsen said to minimise the boat weight, they had packed only a month's supply of food.
"I was so hungry I was chewing sugar sachets to try to squeeze every calorie out of what we had. I've lost about 20kg."
On day 27, a French cargo ship dropped off tins of luncheon and mackerel.
He said other daily challenges included "coffin-like" sleeping quarters, no shower or toilet, and rising temperatures as they neared the tropics.
"It is a tough environment, without being hungry. There were points where we were all frayed and would snap at anything."
After an arduous 35 days, they arrived in Barbados this week where they were greeted with chicken, chips and cold beer.
Gerritsen would return home tonight without a world record - but with a sense of achievement, he said. "Getting to the other side became a big goal and held a lot more emphasis than breaking the record."

Interviews with Gerritsen were assisted by Skycom.