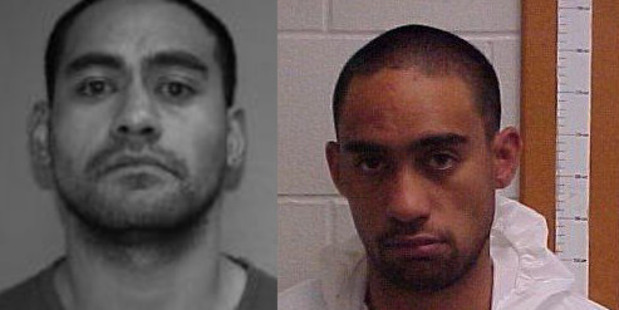 Two armed and dangerous men believed to be linked to a spate of terrifying gunpoint robberies in central Auckland were released on bail last year after being charged with similar firearm-related offences.
Police fear John Koteka, 34, and Alex Tereora, 31, may continue offending if they are not caught.
An arrest warrant was issued for Koteka in connection to three armed robberies on February 15.
A man allegedly brandished a gun as he robbed a person leading a tour group at 4pm in Auckland Domain.
Police say he drove to the base of Mt Eden where he accosted a second person, then confronted Asian visitors at the summit, stealing a handbag and firing five shots from a .22 calibre weapon when two of the group challenged him.
It is alleged Koteka, who also uses the name Paul Wilson, was involved in the second robbery.
Police maintain the same offender is responsible for all of the robberies. Detective Inspector Scott Beard said police had information to suggest the pair were together.
The Weekend Herald can reveal that both men were on bail with serious charges pending.
And a source familiar with both men said they should never have been allowed back on the streets after their arrests last year.
"If these guys weren't on bail, this latest offending would never have happened. They are a crimewave," the source said.
In June, Tereora was charged with aggravated robbery and assault with intent to rob. The source said Tereora allegedly threatened police with a gun when they went to arrest him.
Tereora failed to appear at a High Court hearing relating to those charges on February 18 and a warrant was issued for his arrest.
Judicial communications adviser Neil Billington declined to give further information on Tereora's bail.
Koteka was given bail on November 1 in the Auckland District Court after being charged with two counts of aggravated robbery involving a firearm. He has been committed for trial on those charges.
The Weekend Herald requested further information about Koteka's bail decision. District courts director of community engagement Sonja de Friez said she was unable to supply further details, including which judge granted bail and their reasons.
Yesterday Mr Beard said neither man should be approached by members of the public. "Both are considered to be armed and dangerous," he said.
"It's nearly a week since the brazen and frightening offences occurred in the Domain and on Mt Eden and we're very keen to locate these men in order to prevent repeat offences."
Meanwhile, the mother of an Auckland teenager killed by a man on bail met Prime Minister John Key this week to plead her case for tougher bail laws.
Christie Marceau was stabbed to death in her home by an offender released on bail after kidnapping her.
Her parents Tracey and Brian launched Christie's Law, a campaign demanding tougher bail laws, soon after.
On Wednesday Mrs Marceau met Mr Key at Parliament to talk about the campaign and one similar in the UK which resulted in an amendment to the bail act.
Jane Clough, 26, was repeatedly stabbed by her ex, who was on bail awaiting trial for raping her.
After her parents launched "Justice for Jane" British law was changed to allow prosecutors the right to appeal against bail being granted - a move not previously open to them.
Can you help?
If you know where John Koteka and Alex Tereora are do not approach them - call 111 immediately. Alternatively, contact Crimestoppers anonymously 0800 555 111.