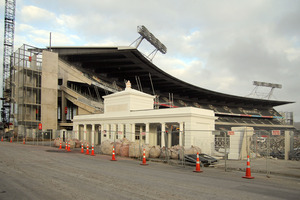 Christchurch City Council has denied agreeing to a potential sale of the earthquake-damaged Lancaster Park sports stadium.
The local authority mistakenly reported in its draft three year plan, published yesterday, that it had been discussing a potential sale.
A draft table of revenue projections shows the council expects $15 million dollars from the sale of the land under the historic rugby and cricket ground.
The cash would then be poured in to construction of a new, possibly covered, $500 million sports stadium, which has been included in the Government's city centre rebuild blueprint.
But Mayor Bob Parker today said the information was included in the draft plan by mistake and has since been removed.
"It was just an oversight," he told Radio New Zealand.
"I'd asked for it to be removed because it is something around which we still need as a council to discuss further, and we would consult with the public around that."
But a possible sale of the land had been discussed by council, he admitted, saying: "The discussion involves, ultimately, what is the final outcome of use for Lancaster Park and we haven't got to the end point of determining that yet.
"We want to have a public conversation about it and it shouldn't be in the draft report."
Any potential assets sales will be added in next year's annual plan, he said.
The future of the Lancaster Park site - most recently called AMI Stadium - remains uncertain, with the council still in discussion with its insurers, local government-owned Civic Assurance.
- APNZ