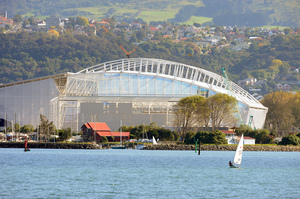 Forsyth Barr Stadium is set for its biggest week yet, with more than 50,000 punters expected through the turnstiles this week.
Completed events this week include the Winery Tour and Otago University Student Association Orientation events, which culminated in a 5500 sellout for Macklemore & Ryan Lewis last night. An estimated 35,000 sports fans are expected to attend games between the Highlanders and the Chiefs tonight and the Warriors v Broncos pre-season match tomorrow night.
Dunedin Venues Management chief executive Darren Burden said this week's events, which also included a luncheon and official welcome, made it the busiest for the venue and highlighted its versatility.
The end of the financial year would show just how varied the events had been, he said. They included Nitro Circus, Ride the Rhythm, All Whites, Phoenix, Paul Simon and a regular Sunday market.
"I think people are now proud the stadium is here.
"They are proud and making it part of their own.
"There is buy-in from the students who are saying 'we have come to study in Dunedin and we are going to use our stadium'."
Stadium income came from venue hire, commissions from catering firm Compass Group New Zealand, and merchandise and ticketing commissions.
In addition to the casual staff employed by the security firm and catering company at the ground, DVML staffing numbers were "pretty lean", and it was common for staff to help run events in their own time.