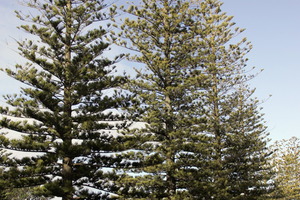 Napier City Council is disappointed vandals have cut down some of the city's iconic Norfolk pine trees.
Seven healthy nine-year-old pines were chopped down on the seaward side of State Highway Two, near Marine Parade, before being dumped at local beaches on Tuesday night.
Council Reserves Manager Tony Billing said staff go to great lengths to improve the city by planting trees and they were not happy their work has been rubbished.
"The Norfolk pines are sort of considered a bit of an iconic species on the landscape of Napier, so it was disappointing to see these ones here were just wilfully cut down," he said.
Police are investigating the incident.