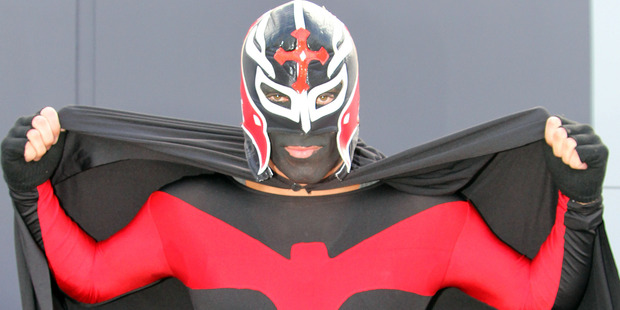 Stories making headlines across New Zealand at noon include Flat Man shocked by Dunedin dwellings and Funky antics land a woman in trouble with police.
Caped Christchurch crusader Flat Man thought he had seen the most devastated homes imaginable in the wake of the Canterbury earthquakes. But nothing could prepare him for the student flats of Dunedin.
Louise Stanley admits to having had a few drinks before mounting her horse, Funky, and trotting into Greymouth but claims she was "hassled" by police and her antics had not harmed anyone.
Another logging truck has crashed across a notorious stretch of Northland road spilling logs across the road.
A group of Stratford residents concerned by the availability of artificial cannabis in its community has called in the big guns to help.
A Mount Maunganui child is covered in a painful rash after swimming at Pilot Bay.
Kane Jamie Te Riini was a rugby star in the making but the 19-year-old's life was cut short when the car he was driving crashed late on Tuesday night.
Beneficiary Rebekah Anderson did a runner earlier this month, owing $2000 in back rent and leaving behind a trashed home.
Close to 20 Wairarapa Hospital staff could be axed under a plan to unite health board management teams in Wairarapa and Hutt Valley.
Gisborne has banned sprinklers after the city's developing water shortage deepened.
Brodie Hunter, 11, came out of surgery in a stable condition yesterday but has not yet named the toy dog staff gave him, indicating it was no replacement for Dr Fitz who is still missing.
Top trending topics on Twitter in NZ at noon were: #AskZac, #FollowMeZac, #Smallzyand5SOS, #NZRowingChamps2013, #nzqt, Wellington, Auckland, New Zealand, ODI Arsenal.
Other stories making headlines across New Zealand at noon include:
Donkey cake gets a smile from birthday boy
Hunt for bogus cops widening
'Embarrassed' businessman hid drug habit
Police find parents of toddler
Whanganui River claim undergoes final review
Dry conditions take toll on Stratford production
Hardy, hassle-free, quiet quails touted over humble chook