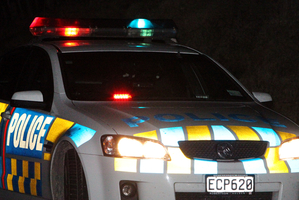 Police have made an urgent appeal for more information about racing cars linked to a crash which killed a Napier teenager only hours before she would have started a hairdressing course.
Maree Shafer, 18, who died at the scene of the crash in Sandy Rd, Meeanee, on Tuesday night, was the sole rear-seat passenger in a silver Holden Commodore Acclaim which crash investigator Senior Constable Corey Ubels believes went through an intersection at well over 100km/h a split second before it slid sideways across the road and hit a tree.
Last night police said the car and two others - a blue Ford Falcon and a grey Nissan Skyline - had been "street-racing" heading west on Meeanee Awatoto Rd. They raced through the intersection with Meeanee and Brookfields roads into Sandy Rd, ignoring a stop sign, just before the crash.
Mr Ubels said the 18-year-old driver of the Holden, which also had a front-seat passenger, a male aged 15, lost control and the car hit a tree side-on.
He said anyone who saw the vehicles racing either in the area or earlier on the streets of Napier should contact police.
Yesterday, as police investigated the scene on the closed road about 100m from the intersection a few hundred metres from the Meeanee Speedway, Miss Shafer's shocked and tearful young mates began turning up to place flowers beside the road.
As they said their emotional goodbyes, young men who knew the driver also arrived at the crash scene.
The driver and 15-year-old passenger had to be cut from the car which had speared off the road and into a clump of large trees about 11.35pm. The driver was reported to be in a stable condition in Hawke's Bay Hospital and the passenger serious but stable.
Friends of the driver were also stunned at what had happened - in a crash police said was down to speed.
Mr Ubels, from the Eastern District Police Serious Crash Unit said: "We have spoken to people from the other cars."
He was unsure who called the crash in, but said police were quickly on the scene and closed the stretch of Sandy Rd off. It was not reopened until after midday.
A friend of the driver, who said he had known him since they were at Taradale Intermediate. said he was looking for a lift last night and rang another mate - to be told there had been a crash. He went to the scene and was told by a firefighter that the driver had been cut from the wreckage and taken to hospital, injured but alive. He then learned a passenger had died.
"Everyone's just in shock," he said. "To hear someone's passed away ... we're just feeling for her family."
He thought the driver had only had the car for about a month, and that he often saw him when they went out "cruising".
"It was a V6, it was pretty powerful."
Another man turned up and said he had driven through the area just minutes before the crash and had seen headlights, which appeared to be from cars speeding.
"They do speed through here ... and if you're going to speed, you're going to end up in trouble."
He added however that the stop sign was not always clear to see at night, as the street lighting in the area was "just a pale yellow".
"And the road surface isn't the best."
Mr Ubels said the Sandy Rd stretch was a known speed spot for boy racers. At the scene, he pointed out black skid and acceleration marks which smeared large stretches of the road.
"It is a boy-racer stretch."
Rebecca Whaitiri, 18, had known Marie since their school days. She had been keen of photography and hairdressing, and also enjoyed singing and had been in a choir.
"She was just always really bright ... just happy and smiley," she said before tearfully placing a large, bright sunflower at the scene.
A friend of the family said Marie was one of six children, all girls, and her grandparents had been closely involved in bringing her up. "As you'd expect, they are all just shattered."
Anyone with any information about the crash is asked to call police on 831 0700.
For more articles from this region, go to Hawkes Bay Today