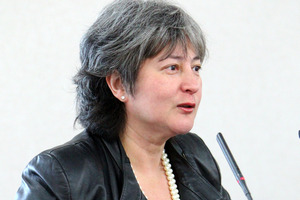 British High Commissioner Vicki Treadell denies she was racing when she was caught speeding in a high-powered Jaguar during a charity rally in Hawkes Bay.
Ms Treadell said the claim that she and another Jaguar driver in the Great British Car Rally from Auckland to Christchurch were racing when they were stopped by police was an unfortunate use of words.
One of Ms Treadell's fellow rally drivers, businessman Rick Lowe, was quoted as saying he and Ms Treadell were "racing" when the pair, and another person, were fined for speeding between Tauranga and Gisborne.
Ms Treadell told APNZ today that Mr Lowe's comment was not accurate and she worried that it gave the impression she was not taking the matter seriously.
She revealed her own indiscretion during a public speech in Napier yesterday and said she will promptly pay the $80 penalty and donate the same amount, split between four charities.
"I do regret the word racing [being used] because I think people will get the wrong impression," Ms Treadell said.
"We weren't racing. I'm very clear about that and indeed our rally briefing ... [was] about driving safely."
She said Mr Lowe was an "amazing gentleman" who was donating a lot of time to charity and "perhaps [his] passion might have got the better of him" when he made his "light-hearted" comment.
Sergeant Carl Neustroski, of Hawkes Bay Police, said the constable who fined a Jaguar driver observed many of the cars in the rally being driven sensibly, "apart from the minor unintentional breach".
"If the two drivers mentioned in the article were racing, I hope they now realise how irresponsible driver behaviour of that nature is, and the potential risks to themselves and other road users, especially in the Waioeka Gorge, which has been an area of road where many fatal and serious crashes have occurred," Mr Neustroski said.
Ms Treadell said she was caught speeding as she was coming down a slight gradient, which "probably tipped me over" the speed limit.
The $80 fine is for being caught between 10km/h and 15km/h over the speed limit.
Ms Treadell's communications manager, Chris Harrington, said he did not see anybody racing during the rally.
"Nobody that I know of at that point in time was racing. However some people were pulled over at all sorts of spots for speeding," he said.
"Travelling at just over the speed limit, which Vicki was, doesn't suggest that they were racing, does it."
- APNZ