First celebration in 1934 set a tradition observed ever since.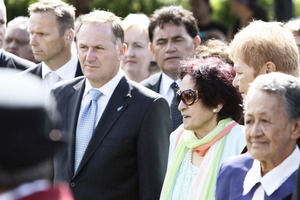 Q. Waitangi Day is February 6. Why does the Governor-General go to Waitangi on February 4? Why do the Prime Minister, and all the other politicians, go to Waitangi on February 5? The Treaty was signed "at the Treaty House". What does the "Lower Marae" (Te Tii) have to do with it?
Alan McKibbin, Pt England.
Good questions. John Molloy, a senior research librarian at the Parliamentary Information Service, has kindly provided the following.
The Governor-General and Prime Minister arrive early at Waitangi to allow them to pay their respects to their hosts before the formal celebrations begin.
And, from an article by Patrick McAllister, Mr Molloy has highlighted these passages: "[Public events] marking the signing of the Treaty of Waitangi were marked by celebrations on February 6, 1934, the first official Waitangi Day event, at both the Treaty House (where a flagstaff had been erected to mark the spot where the Treaty had been signed) and at the nearby Te Tii Waitangi marae, where Ngapuhi hosted a gathering of some 10,000 Maori from across the country.
It is these two sites, one representing the Crown (and by extension, Pakeha) and the other representing Maori, that are used for official Waitangi Day commemorations today.
"It was at Te Tii, across the Waitangi estuary near Paihia town, and roughly southeast of the house of the British Resident, that Maori had camped for a number of days while the Treaty was explained to the chiefs, debated, and eventually signed in front of the Resident's house. By the 1870s, Te Tii, under the auspices of the local tribe, Ngapuhi, had become 'a centre for inter-tribal discussions on Treaty-related matters'."
Mr McAllister goes on: "The official Waitangi Day programme in recent years has included a flag-raising ceremony with the navy in attendance, a dawn prayer service in the whare runanga, a 21-gun salute, an interdenominational church service, the launching of the war canoe, and a flag-lowering service later in the afternoon. Entertainment and sustenance are provided by the navy band, kapa haka groups, and craft and food stalls.
"Events at Te Tii marae and adjoining grounds are slightly more complex. Here there is a meeting hall and grounds in front of it where visiting groups are welcomed with powhiri by the hosts, the Ngapuhi tribal elders. Powhiri occur at intervals after visitors arrive, on the two or three days prior to February 6. The Governor-General and the Prime Minister as well as the leader of the Opposition and representatives of various political parties call at Te Tii (usually on February 5) to pay their respects to the hosts and are wel-comed, along with guests invited by the marae committee. From February 4 many visiting Maori camp at the campground next to the marae."