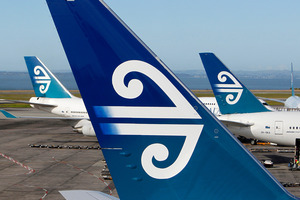 A mother-of-two asked to leave an Air New Zealand flight before take off because her youngest son wouldn't settle has divided parents, with several supporting the airline's actions.
Aucklander Elena Volkova was scheduled to travel from Auckland to Christchurch on Saturday with sons Andrey, two-and-a-half, and Dmitry, 5.
However, when Andrey refused to settle a few minutes after they boarded they were asked to get off.
Mrs Volkova believed it was because of the noise her son was making but the airline said it was a safety issue because the boy refused to sit in his seat and have his seatbelt fastened.
Parenting groups today agreed taking children on flights was stressful for many parents who worried about disturbing other passengers, but their reactions to Mrs Volkova's experience differed.
Manager of Auckland's Hibiscus Coast Family Services was one of several parents "disgusted" by the airline's actions.
There needed to be more sympathy for parents who faced often an unrealistic expectation for children to behave perfectly in public, she said.
"I think it's a lack of tolerance so my sympathy does lie with the mum because it's difficult to do anything with children in any circumstances," she said.
However, others supported the airline's actions.
"I can understand from the airline's safety perspective it would be tough for them to make that call," said Mat Scott, manager of support group Father and Child.
"I feel sorry for the mum and the kids but for health and safety reasons they [the airline] probably would have breached a few of their code of practices if they allowed them onboard," he said.
Mr Scot said there needed to be better communication between airlines and passengers about regulations when travelling with children to make the procedure as easy as possible.
Mrs Volkova said Audrey was close to nap time when they boarded the flight and he started having a tantrum on the floor.
"He was crying quite loudly. The flight attendants tried to help me with putting him into his seat - trying to bribe him with cookies and toys but it didn't help."
After about five minutes, the flight attendant asked them to leave the plane, she said.
Mrs Volkova said her son would have calmed down but wasn't given enough time to do so.
"At that moment I felt like I hadn't been given enough time because it was his nap time and he would have calmed down."
However, Air NZ spokeswoman Kelly Kilgour said the issue was not that the child's crying, but that he was not restrained in his seat.
Civil aviation rules require passengers to wear seatbelts during takeoff and landing.
"Despite everyone's best efforts, the child could not be convinced to be seated with the seatbelt fastened and the flight's departure was at risk of being delayed, inconveniencing other passengers.
"The pilot in charge had no choice but to make the call for the family to disembark and be re-accommodated on a later flight once the child had calmed down," she said.
Mrs Volkova said the regulations made sense but airline staff did not communicate at the time that this was why they were asked to leave.
"Now I understand the purpose was to get him into the seatbelt but they didn't explain it to me. I thought the problem was because he was crying."
The trio were offered seats on another flight. But concerned the same thing might happen, Mrs Volkova called her husband, who abandoned his weekend plans to drive to the airport from Hamilton to pick up their youngest son.
An airline manager apologised to Mrs Volkova at the airport, she said.
Mrs Volkova and Dmitry then flew to Christchurch and Andrey's $180 airfare was refunded.
- APNZ