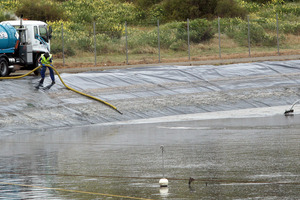 Wanganui residents are fed up with the "disgusting" foul stench coming from the city's water treatment plant, but know it will be a while before the problem is fixed.
The odour has hung in the air since before Christmas and it was likely to be weeks before the strong smells lessens, the company brought in to fix the problem said.
Bruce Enderby lives close to the plant and said that depending on the wind he smelled it most days.
The area had also been sweltering in hot temperatures lately, which Mr Enderby said exacerbated the problem.
The design of the plant was "poor in the first place", he said.
"But the problem is so big, it's going to take a hell of a long time to fix - I don't know what the outcome is."
Another resident, who did not want to be named said the smell was "disgusting".
"We've had people for tea and they've left early because they can't stomach it - it's embarrassing for us.
"You have to shut your house completely up and the stinking hot weather, like we're getting at the moment, it's not pleasant at all.
"It needs to be fixed, fullstop."
If the problem wasn't fixed, it would affect his life, he said.
"I won't be able to sell my house because no one will want to buy it - who wants to live in a place that stinks?"
About two weeks ago infrastructure and environmental company BTO Cardno began the process of solving the problem and has been using lime to cover the thick layer of sludge at the bottom of the ponds.
It was the sludge that was creating the foul-smelling hydrogen sulphide gases that were bubbling to the surface of the ponds.
Business unit manager Mike McCoy said the lime was the first the first measure being used before using aeration to circulate air through the plant as a medium term measure.
"That's going to take up to another couple of weeks to get on line and all of these things reduce the odours."
He hoped that the smell would reduce enough it wouldn't be an "ongoing nuisance" for the community while long term measures were being put in place.
Mr McCoy said the company and the council were still working on the long-term plan.
A report by BTO Cardno about the short and medium term plans for the plant was released yesterday and was presented last night to the Wanganui City Council.
Wanganui Mayor Annette Main was not available for comment on how that meeting went, but before the meeting, she said the various strategies tried to date would not deal with the root cause of the smell but were about reducing it to an acceptable level to comply with the abatement notice from Horizons Regional Council for objectionable odour.
- APNZ