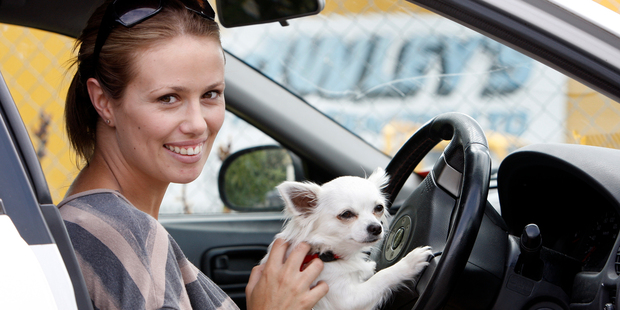 Stories making headlines across New Zealand at noon including an ambassador caught speeding on the way to a car rally and the chihuahua who went on a six month walkabout.
Speeding along to catch up with the Great British Car Rally, British High Commissioner Vicki Treadell suddenly noticed a cop on her tail.
Two-year-old purebred chihuahua Candy somehow managed to wander 200km from home in a bit more than six months.
Hastings police pulled over a car this morning and found four men and eleven hogtied sheep inside.
Far away from TVNZ, Mark Sainsbury looks like he is having a ball.
A thick carpet of algae is releasing a putrid stench at Waipu Cove beach.
Wanganui has been told its putrid stench will be around for a while.
A call was made during Amandeep Singh's funeral in India for a speedy outcome to the police investigation into his apparent murder in Gisborne.
After an "epic" long weekend in Queenstown, Rire Norman didn't expect to return to an empty space where her car was parked.
A Lincoln man's plan for an outdoor bath went awry when he sparked a large grass fire during a total fire ban.
Hekia Parata is not winning any popularity contests in Christchurch.
A motorcyclist crashed into a power pole and landed on power lines near Makarora.
A Wellington real estate agent who defrauded 92-year-old Edith Cavell South of $171,269 "loved her like a mother" court documents show.
Top trending topics on Twitter in NZ at noon were: #usefulcelebs, #NZRowingChamps2013, #SamoaMemories, #askhaydn, #PeopleAtMySchoolSky City, Arsenal, New Zealand, Auckland and #Africa
Other stories making headlines across New Zealand at noon:
Two dead as car hits tree
Woman killed in Napier crash
Close call for driver in car fire
Te Matatini: What you need to know
Te Matatini: Timetable
Why some saying house prices rising, others say they are not
Fashion from farm gate to the catwalk
Buns a cut above the rest