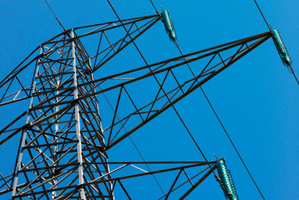 A motorcyclist lay on downed power lines for about an hour after crashing on the Haast Pass yesterday.
The 56-year-old Christchurch man was travelling on State Highway 6 from Haast to Wanaka with his brother, who was on another motorbike, when he lost control and skidded off the road about 5km south of Makarora, shortly after 10am.
The man came off his motorbike after it crashed into a deer fence pole. The motorbike then hit a power pole, knocking it over and breaking it into several pieces, while its rider landed in a ditch beside the road lying across the downed power lines.
Emergency workers at the scene could not move him until a crew from electricity company Delta arrived about an hour later and tested the cables to ensure they were not live.
"We just didn't want to put that person or anyone else at risk [of electrocution]," Senior Constable Mike Johnston, of Wanaka police said.
The man was airlifted to Dunedin Hospital. However, other than suspected broken wrists and ribs, the man was "remarkably unscathed", Mr Johnston said.
"He should go and buy a year's worth of Lotto tickets because he's a very very lucky boy."
It appeared the man had lost concentration, Mr Johnston said.
"We don't think it was a speed issue."
Fire crews from Makarora and Lake Hawea attended the accident, along with Haast and Wanaka police and Wanaka St John paramedics.
The accident cut off power to the Makarora area for several hours while the damaged power pole was replaced.