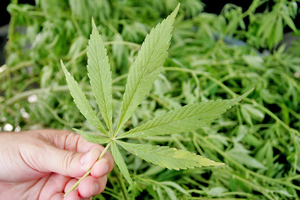 A judge has compared Blair Matthew Colligan's provision of LSD and ecstasy to members of his drugs ring to an employer providing his staff with tea and biscuits.
Westport men, Colligan and Shane David Saunders were the ringleaders in the multi-million dollar drug ring that was uncovered by Operation Marvel in 2008.
They were to be sentenced today in Greymouth District Court on a variety of charges but the case was adjourned until April 17 for a disputed facts hearing, which is scheduled for two days.
The men pleaded guilty before Judge Raoul Neave to a new indictment today but took issue with some sections of the Crown's summary of the offending.
Both pleaded guilty to joint representative charges of cultivating cannabis in and around Westport and selling cannabis.
Colligan also pleaded guilty to two counts of supplying ecstasy and two of supplying LSD but the Crown has conceded that these drugs were given to his "workforce" so the supply was for non-commercial purposes.
"A bit like providing biscuits and tea," Judge Neave said, while granting bail but warning the accused that prison was inevitable.
Operation Marvel culminated in December 2008 when more than 30 marked and unmarked police cars and an Iroquois helicopter swept on houses in Westport, Waimangaroa and Cape Foulwind.
About 90 police officers took part, busting what police described as a multi-million dollar commercial drug syndicate.
Police had spent 14 months on the case and used phone taps, secret cameras and undercover officers.
Cannabis was grown near Westport and Reefton and prepared for sale in Buller, then sold in Nelson, Canterbury and Wellington.
In total there were 15 arrests from Operation Marvel but all other defendants have already been sentenced, some to jail and others to community-based sentences.
One Westport couple was also ordered to pay $30,000 to police as profit forfeiture, under the Criminal Proceeds (Recovery) Act, 2009.