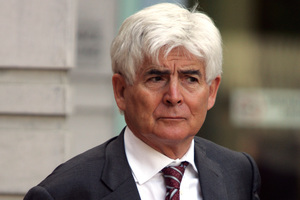 Disgraced lawyer Barry Hart has had his appeal against being declared bankrupt struck out, partly because he was not able to pay nearly $6000 security of costs for the hearing.
The High Court at Auckland granted an application by the ANZ National Bank to have Hart declared bankrupt on December 17, which he immediately appealed against.
His appeal was set to be heard on February 13, but the registrar set security for costs of $5880.
Hart applied to have the costs waived, but the application was declined and he was ordered to pay the money before the hearing.
An application to have the hearing adjourned was also declined.
However, on the day of the hearing, Hart's lawyer Davina Murray told the Court of Appeal he was not able to comply with the order to pay security costs.
In a decision released today, Justice Rhys Harrison said there was no evidence ANZ had used the bankruptcy process oppressively as Ms Murray argued.
He also took into account Hart's failure to pay the security costs and his unsuccessful attempts to have the costs waived.
"More particularly, he has failed to provide the High Court with any financial details either of his assets and liabilities or sources of income, whether personal or from entities with whom he has associated, which might form a reliable basis for exercising the statutory discretion in his favour."
Justice Harrison said Hart's appeal had no merit and struck it out.
Last year Hart lost his multimillion-dollar properties northwest of Auckland after owing $30 million to the ANZ National Bank.
Associate Judge David Abbott last year ordered Hart to vacate the last property so it could be sold by the bank, and said Hart was liable for the $20,543,951.92 which remained outstanding on his bank loan.
His companies Woodhill Stud and Woodhill Holdings were also liable for loans worth $16,170,727.11, which must also be paid back at a rate of five per cent per annum.
Also last year Hart was struck off the Law Society's registrar, ending his 46-year career as one of New Zealand's most high-profile criminal defence lawyers.
He did not turn up to his own disciplinary hearing, saying he was too unwell to attend, but it went ahead and Hart was found guilty of three misconduct charges, including overcharging, by the Lawyers and Conveyances Disciplinary Tribunal.
He appealed to the High Court at Auckland in December last year, saying the tribunal had no right to proceed in his absence.
However, Chief High Court judge Justice Helen Winkelmann and her colleague Justice Graham Lang dismissed his appeal earlier this month.
The justices upheld the tribunal's ruling that Hart had overcharged a client's family and was guilty of two further misconduct charges.
They also upheld the tribunal's result which has spelled the end of Hart's career that included representing samurai sword killer Antonie Dixon.
The court found that Hart's fees were "far too high" and further criticised Hart for his lack of communication skills.
- APNZ