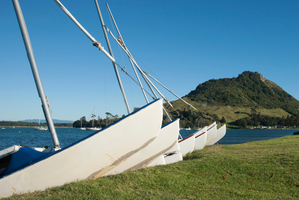 A Mangawhai marine company has been ordered to pay $30,000 after a boat explosion injured three people, including one who suffered permanent hearing loss.
The director of Mangawhai Engineering and Marine was carrying out repairs on a catamaran when the explosion happened at his Black Swamp Rd work site on January 24 last year.
The explosion was sparked by striking a metal inert gas welder on the boat. It destroyed the right side of the hull and lifted the deck from the left side.
The boat's owner, who was waiting for the repairs to be carried out, suffered permanent hearing loss from a perforated eardrum.
A contractor working some distance away was knocked underneath a bench grinder by the force of the blast. He suffered temporary hearing loss and muscle and ligament damage to his knee.
The company director suffered facial injuries.
Mangawhai Engineering and Marine was fined $20,000 and ordered to pay reparations of $5000 to each of the two victims in North Shore District Court today.
In a statement after sentencing, Ministry of Business, Innovation and Employment northern region health and safety manager John Howard said the company owner had carried out a sniff test to check for hazardous vapours.
But the test was "completely inadequate".
"He had a responsibility to ensure his own safety along with that of the contractor and also to ensure his customer was safe.
"He should have used a more through system to ensure that hazardous vapours and moisture were not present inside the void of the hull to conduct the repair safely.
"Instead his customer now faces permanent hearing loss and his contractor suffered preventable injuries."
- APNZ