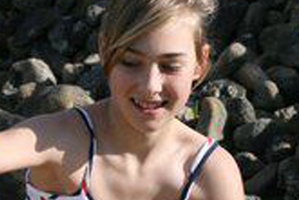 Carterton schoolgirl Grace Ellen Diedrichs has been remembered as a "happy little girl, smiling all the time" by Solway Primary School principal Gail Marshall.
The 15-year-old's former schools, Solway Primary School and St Matthew's Collegiate School in Masterton, were flying flags at half mast in honour of Grace, who was killed on Sunday when the ute she was a passenger in collided with a commuter train.
"She was just this happy little girl, smiling all the time. She had a magnetic personality that attracted friends. She was just so nice to people," Mrs Marshall said.
Grace was flung 20 metres from the ute after the vehicle struck the side of the train at the Wilton's Rd crossing in Carterton. She died at the scene.
The driver Jonathan Painter, 17, of Pahiatua is in Wairarapa Hospital in the high dependency unit with head injuries but is in a stable and improving condition.
His mother Sheree Painter and stepfather Wayne Roache would not comment further.
Jonathan works as an apprentice butcher for Mr Roache at Mangatainoka Meats.
Grace was the daughter of Jason and Sally Diedrichs and sister of J'aime and Taryn.
Mr Diedrichs is the director of Amalgamated Helicopters, a Wairarapa helicopter company and has participated in numerous search and rescue operations in the region.
Solway Primary School, which Grace attended for five years, have placed a tribute to Grace on their front door, which reads: "Our beautiful ex-Solway girl Grace, RIP sweetheart."
Mrs Marshall said the school was sombre thinking about the loss of someone "as special as her".
She said Grace's former teachers, who are out of the country, have sent their condolences and that the school was feeling for her parents.
"I know teachers that taught her are feeling very sad about it.
"We watch them grow up, it's like your own children ... it's really sad when this happens.
"She was just well loved by everyone and we're very sad," she said.
Mrs Marshall recalled how Grace was into sport and was "a high little achiever".
"She was a little mediator, someone that helped other people in the school.
"[She was] just a gorgeous, gorgeous girl, it's just so sad."
She said that Grace was popular among her peers.
"I know she had a lot of friends.
"It was just tragic to hear that it was someone as special as her."
St Matthew's Collegiate secretary Lesley Wright said the school was offering counselling to its students and would be releasing a statement over the coming days about Grace's death.
A tribute page was set up for Grace on Facebook on Sunday and more than 1000 people have visited the page, with many leaving messages to Grace and her family.
"There is going to be a memory book getting made to give to Grace's family. It will be at school and it's for you all to write your memories of Grace in.
"Rest in peace Grace, you will be missed," Charlotte Pope wrote.
- APNZ