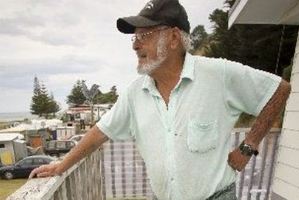 The family of a Hastings man who drowned while diving on the central Hawkes Bay coast at the weekend are mystified because he knew "all the spots" on the coast and was a good swimmer.
The father of four, who drowned on Sunday while diving south of Pourerere Beach with his family, has been named as Barney Leon Akurangi, 34, of Hastings.
His sister Janet said Mr Akurangi was a regular visitor to the beach.
"He knew it well, and that's why it was such a shock. We thought it may have been a deep-water rip, but it wasn't that deep there at all."
He was scuba diving with a friend for kina at Muddy Point at about 5pm, with his wife, Harmony Hawaikirangi, and two youngest daughters nearby, when he was noticed floating on the surface.
His friend brought him to shore and attempted to revive him while Ms Hawaikirangi drove about 4km along the beach to Pourerere Beach Caravan Park.
The tragedy last night remained a mystery, for his sister said the whole family had grown up holidaying and day-tripping to the beach, particularly Pourerere where he still went at least as regularly as every two weeks.
They all learnt to swim in the seas, she said, and he knew "all the spots" on the isolated coast east of Waipawa, including the rips which have claimed others in the late summer months in the past.
The owner of the Pourerere Beach Caravan Park, Dick Grenfell, said Ms Hawaikirangi had driven into the camp "tooting like anything, wanting help".
"It was difficult to get information out of her - she was very emotional," he said.
"She had two little kiddies with her. We brought them around to the cook house and put some blankets on them until the police arrived."
He said some people in the camp were trained in CPR and they worked on Mr Akurangi.
Thanks to fundraising by locals, Pourerere Beach has its own defibrillator.
"Someone came ripping up from the camping ground saying to bring the defibrillator down," local fisherman Andrew Gay said.
With wife Tracy they took the cardiac-arrest machine to the scene where they found the man's friend performing CPR.
They assisted with CPR and operated the defibrillator until emergency services arrived.
Mr Grenfell said there could be 101 reasons why he died.
" There were two orcas there. I don't know if they were involved, but maybe they faced him in the water and he got a fright.
"How he lost consciousness we don't know - that will be up to the coroner."
Mr Akurangi's sister Janet said her brother, who was born-and-bred in Flaxmere, said because her brother had been such a shy man, the bereaved family was last night struggling to find a suitable photo to go with his coffin.
She was speaking as family, friends and her brother's employers and workmates awaited his return after a post-mortem examination being held to establish how he died.
He will rest at Te Aranga, the marae in the Flaxmere suburb where he grew up as one of four children of Paraki (Barney Snr) and Beverley Akurangi, and where he lived with wife Harmony, son and St John's College pupil Jaezar, 15, daughter and Flaxmere College pupil Hinekoia, 13, and his two other daughters, Irongate School pupils Shazzara, 10, and Jazmaia, 9.
Mr Akurangi worked for Flaxmere company Gourmet Blueberries, where he had driven tractors and worked as a labourer for some years.
For more articles from this region, go to Hawkes Bay Today