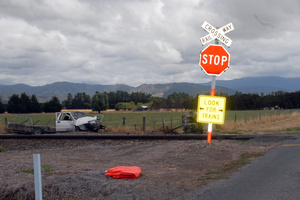 The teenage driver of a ute that was hit by a commuter train, killing his 15-year-old passenger, may not be well enough to speak to police for a week or more.
Carterton schoolgirl Grace Ellen Diedrichs died when she flung 20 metres from the ute in the collision on Wiltons Rd just after 8.15am on Sunday.
The train hit the side of the ute, spinning it around and destroying its cab.
Its 17-year-old driver, Pahiatua apprentice butcher Jonathan Painter, suffered serious injuries in the crash.
He was taken to Wairarapa Hospital where he underwent surgery for head injuries last night.
Senior Sergeant Carolyn Watson of Masterton police said the driver's injuries were not life-threatening and he was recovering well.
But police had not yet been able to get his account of what happened.
"With a head injury, we need to give him time to recover ... we're waiting on doctors to let us know that we can speak to him. It could be a week or it could be longer."
Police would need to speak with him and await the results of a crash investigation before any decision on charges was made.
Ms Watson said the crash investigation was complicated and there were "a lot of unanswered questions".
"We don't know why the vehicle came into contact with the train. We could surmise and guess, but until we get the results of the investigation and the results of speaking to the driver, we really don't know why he hit the side of the train."
Crash investigators completed an initial scene examination yesterday and would continue their inquiries over the next couple of days.
The ute had been taken to a secure facility, where an examination would be carried out within the next couple of weeks.
Ms Watson said both families needed space to come to grips with what had happened.
"They're all devastated and just trying to get through what is a pretty harrowing time for them all."
Grace Diedrichs was the daughter of Jason and Sally Diedrichs, who run Wairarapa helicopter business Amalgamated Helicopters.
She had been a day student in Year 11 at St Matthew's Collegiate School, an integrated school for boarding and day students in Masterton.
Principal Erik Pedersen said the school community was devastated by her death.
"Grace was an open, friendly and delightful young woman, who enjoyed all aspects of her school life. Our heartfelt sympathies are with the Diedrichs family at this time."
On Twitter, friend Sarah Saunders yesterday said things would never be the same without Grace.
"I can't believe the tragedy today has bought."
Jonathan Painter is an apprentice butcher at his stepfather Wayne Roache's business Mangatainoka Meats.
- APNZ