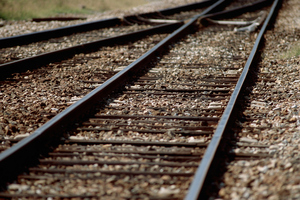 Up to 150 people walked into the hills flanking the Wharerata Hills south of Gisborne yesterday to pay homage to those who lost their lives working to give the region a railway link to Napier.
Several people in their 80s, supported by those younger and stronger than themselves, defied aging joints and rough terrain to get to the memorial for the 22 people who were drowned in the Kopuawhara disaster 75 years ago, 21 of them at single men's camp No. 4.
Lex Gordon, 80, asked those assembled to think of other men who lost their lives in the battle for rail.
Lex and his sister Rae, 85, were among about 100 children living at the Kopuawhara railway camp when a flash flood washed away the single men's quarters on the stream banks below as they slept on that fateful night of February 18, 1938.
Chris Ward, who has studied the event, said the flood happened on a Friday night when many of the camp's occupants had gone away for the weekend.
Had it happened during the week, there would have been even more deaths.
The flood affected all the camps along the river but elsewhere most of the inhabitants were able to get to higher ground.
At Kopuawhara, a bridge was washed away by the force of the water and the men were trapped on an island between the river and a raging channel of water on the other side.
Also marking the occasion were three generations of the descendants of William Charles Robinson, who drowned in the flood at the Bartlett's camp further upstream,
The inscription on the monument made sad reading for supporters of the line.
"They have built and their handiwork remains their sure memorial."
KiwiRail staff sent a wreath and a message.
Representatives of Ngai Tamanuhiri, the majority landowners of the surrounding forests, said they were working with Juken New Zealand, the tramping club and Walking Access New Zealand to provide better access to the site and to restore signage marking it, which was lost after Cyclone Bola.